EyeRounds Online Atlas of Ophthalmology
Contributor: William Charles Caccamise, Sr, MD, Retired Clinical Assistant Professor of Ophthalmology, University of Rochester School of Medicine and Dentistry
*Dr. Caccamise has very generously shared his images of patients taken while operating during the "eye season" in rural India as well as those from his private practice during the 1960's and 1970's. Many of his images are significant for their historical perspective and for techniques and conditions seen in settings in undeveloped areas.
Category: Pediatrics
Clinical anophthalmos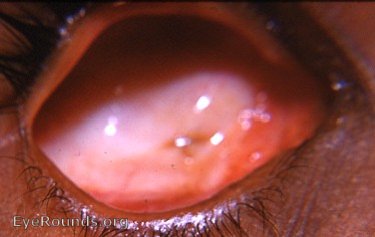 Only histopathologic study of orbital tissues would rule out microphthalmos in cases that appear clinically to be anophthalmos. That certainly will not be permitted by the family.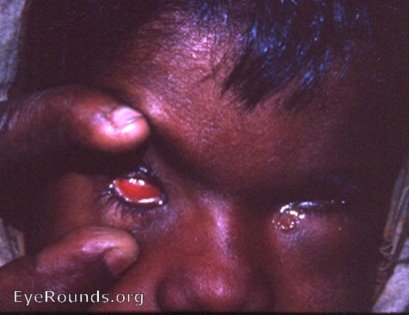 " The differentiation between anophthalmos or complete absence of the eye and extreme microphthalmos or a rudimentary small eye can only be made by the examination of serial, histologic sections of the orbit. The differentiation cannot be made clinically. The term clinical anophthalmos is applied to the condition where no eye can be found clinically. " from Yanoff and Fine: Ocular pathology.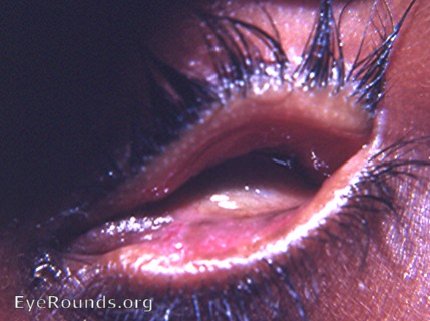 In many cases, what appears to be complete anophthalmos is actually pronounced microphthalmos. To rule out microphthalmos, the pathologist would have to study serial histologic sections of the orbital contents. The term "clinical anophthalmos" is used when there is no clinically apparent eye.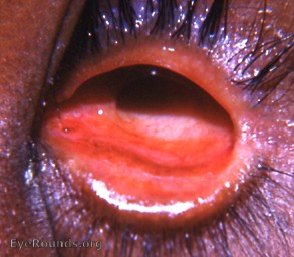 ---

Ophthalmic Atlas Images by EyeRounds.org, The University of Iowa are licensed under a Creative Commons Attribution-NonCommercial-NoDerivs 3.0 Unported License.
last updated: 02-08-2008