Descemet Membrane Endothelial Keratoplasty (DMEK)
Contributor: Jesse Vislisel, MD
Photographer: Antoinette Venckus, CRA (Figures A-C), Brice Critser, CRA (Figures D, E)
Descemet Membrane Endothelial Keratoplasty (DMEK) is a partial-thickness cornea transplant procedure that involves selective removal of the patient's Descemet membrane and endothelium, followed by transplantation of donor corneal endothelium and Descemet membrane without additional stromal tissue from the donor. The first 3 photographs show the post-operative appearance of three different patients who underwent DMEK for Fuchs endothelial corneal dystrophy at 1 week post-operatively with residual anterior chamber gas bubbles (A, B) and 2 weeks post-operatively with complete resorption of the gas (C). The latter photos show the appearance 1 month after surgery with a clear cornea and 20/20 acuity (D, E). Read the related article for more information regarding modern corneal transplantation techniques.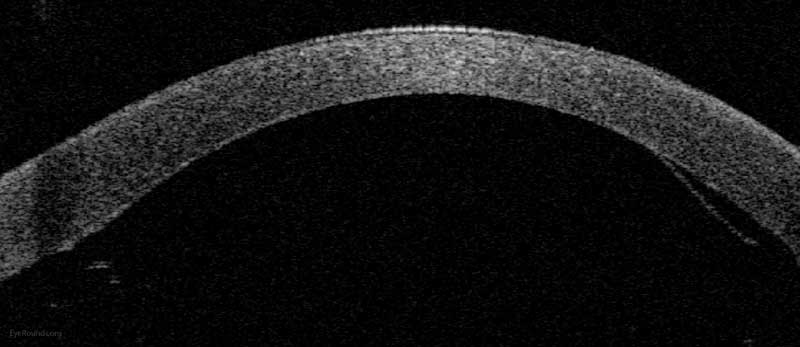 Figure 2: Anterior segment optical coherence tomography demonstrating a limited, peripheral graft edge lift one week after DMEK surgery (right side of image). The attached portion of the graft mimics normal anatomy due to the precise 1-to-1 replacement of tissue with DMEK.

Ophthalmic Atlas Images by EyeRounds.org, The University of Iowa are licensed under a Creative Commons Attribution-NonCommercial-NoDerivs 3.0 Unported License.
last updated: 03/17/2016