Ophthalmology and Visual Sciences
Bayoneting of vessels and bean-pot cupping in advanced glaucoma
Bayoneting of vessels and bean-pot cupping in advanced glaucoma
Category(ies)

: Glaucoma, Iris
Photographer

: Jody M. Troyer, CRA
Posted

: June 24, 2019
---
Glaucoma is an optic neuropathy characterized by remodeling of the optic nerve head with loss of neural tissue resulting in distinctive visual field defects [1]. It is the leading cause of irreversible blindness worldwide, and by the year 2040, an estimated 111.8 million individuals will be affected [2]. Historically, visualization of the optic nerve head has been used to assess disease severity. The optic nerve head contains a cup which is delineated by the neuroretinal rim. Normal cup-disc ratios range from 0.1 to 0.4, but as neural rim tissue is lost, the cup progressively enlarges and the underlying lamina cribrosa becomes more apparent [1]. In severely advanced glaucoma with complete loss of retinal tissue, retinal vessels may disappear as they make a sharp turn into the cup, termed bayoneting or "bean-pot" cupping. Deeper vessels as they re-emerge may appear out of focus [3].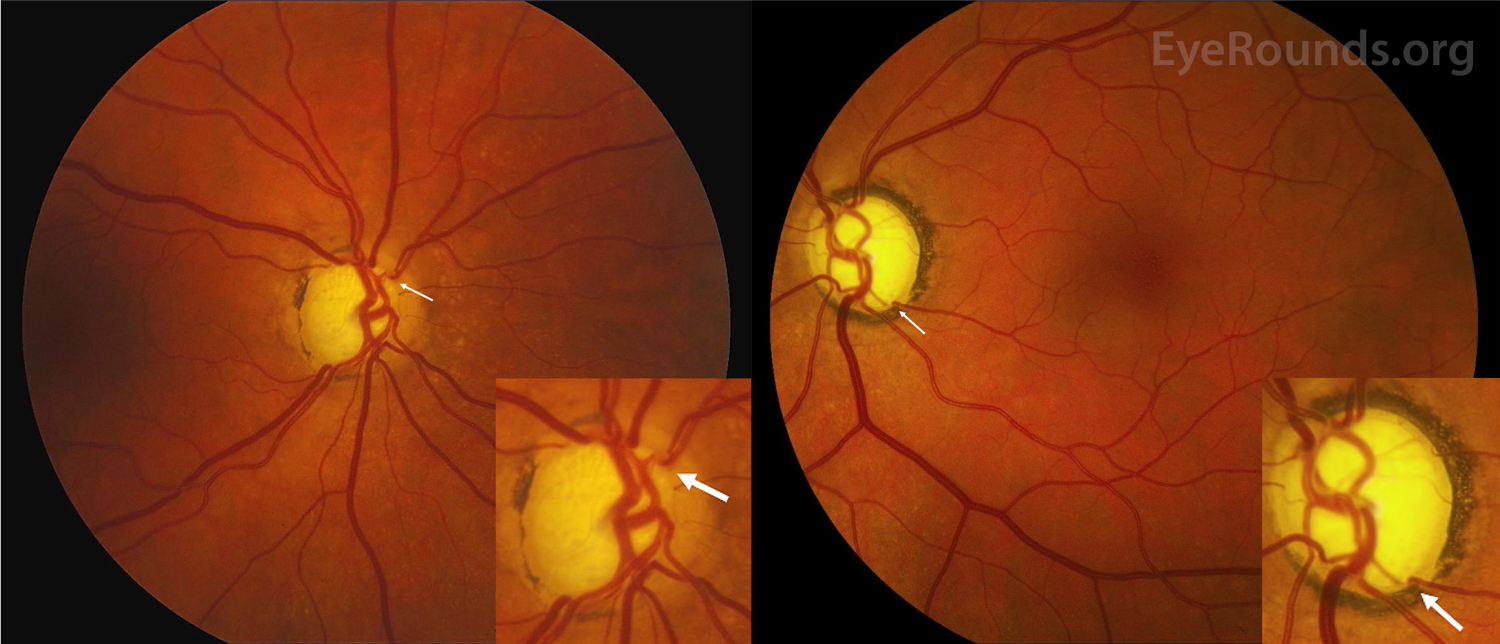 Color fundus photography of both eyes in a 71-year old woman with severe open-angle glaucoma. Right eye (left image) demonstrates marked cupping of the optic nerve. Retinal vessels can be seen 'bayoneting' superonasal (arrow). Left eye (right image) demonstrates greater cupping than the right eye with near complete loss of neuroretinal rim and surrounding peripapillary atrophy. Retinal vessels are seen 'bayoneting' inferotemporal with brief loss of visualization upon entering the cup (arrow). Optic nerve heads are magnified in the lower right corner of each image.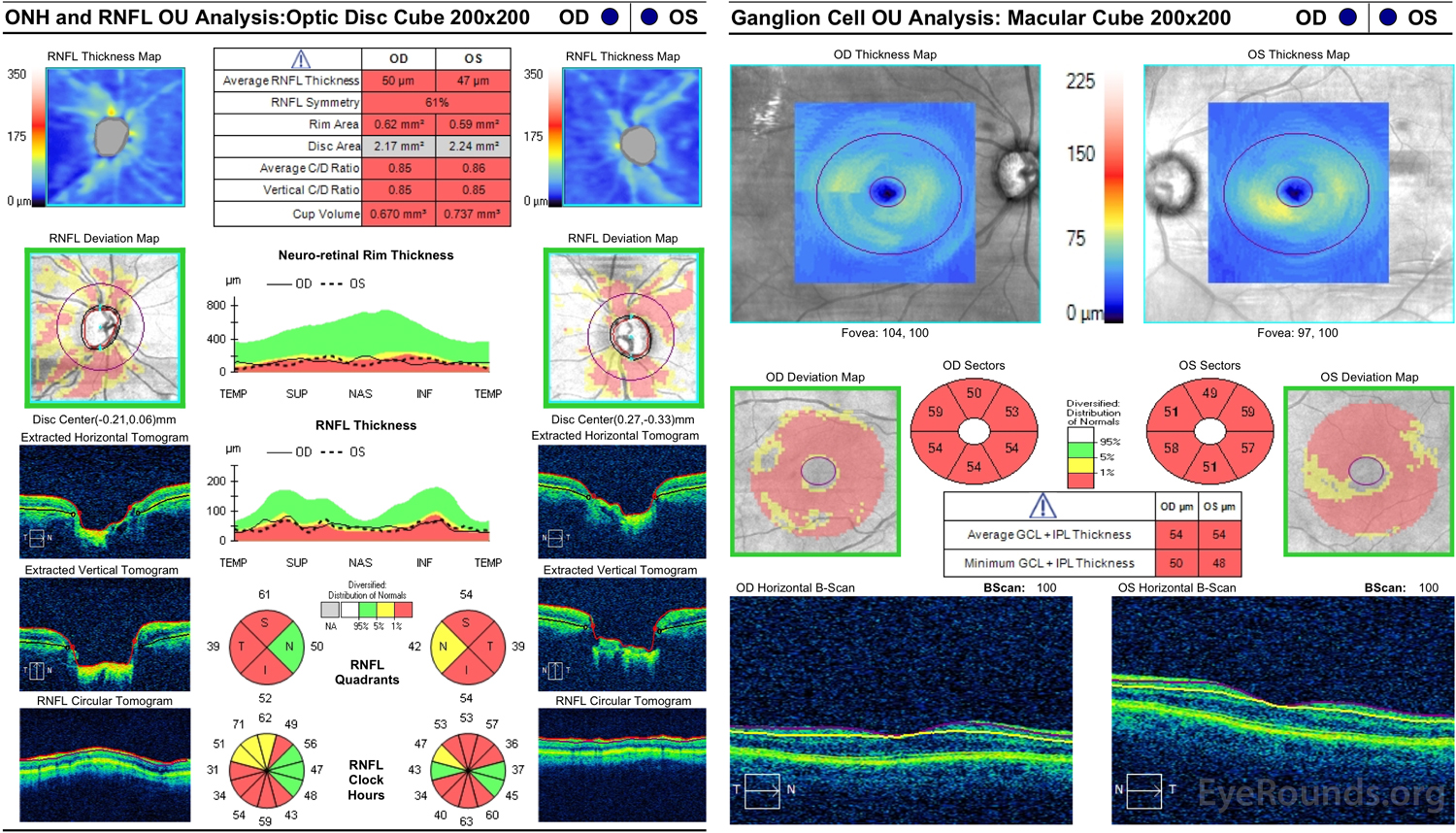 Optical coherence tomography analysis of the optic nerve head (ONH), retinal nerve fiber layer (RNFL), and ganglion cell layer fiber layer of both eyes. Left image: Both eyes demonstrate marked ONH cupping and diffuse RNFL loss. Right image: Both eyes demonstrate marked ganglion cell loss of the macula.
References:
Casson RJ, Chidlow G, Wood JP, Crowston JG, Goldberg I. Definition of glaucoma: clinical and experimental concepts. Clinical & experimental ophthalmology 2012;40(4):341-9 doi: 10.1111/j.1442-9071.2012.02773.x[published Online First: Epub Date]|.
Tham YC, Li X, Wong TY, Quigley HA, Aung T, Cheng CY. Global prevalence of glaucoma and projections of glaucoma burden through 2040: a systematic review and meta-analysis. Ophthalmology 2014;121(11):2081-90 doi: 10.1016/j.ophtha.2014.05.013[published Online First: Epub Date]|.
Chen TC. Spectral domain optical coherence tomography in glaucoma: qualitative and quantitative analysis of the optic nerve head and retinal nerve fiber layer (an AOS thesis). Transactions of the American Ophthalmological Society 2009;107:254-81
---
Image Permissions:

Ophthalmic Atlas Images by EyeRounds.org, The University of Iowa are licensed under a Creative Commons Attribution-NonCommercial-NoDerivs 3.0 Unported License.
---