EyeRounds Online Atlas of Ophthalmology
Contributor: William Charles Caccamise, Sr, MD, Retired Clinical Assistant Professor of Ophthalmology, University of Rochester School of Medicine and Dentistry
*Dr. Caccamise has very generously shared his images of patients taken while operating during the "eye season" in rural India as well as those from his private practice during the 1960's and 1970's. Many of his images are significant for their historical perspective and for techniques and conditions seen in settings in undeveloped areas.
Category: Cataract
Cholesterol crystals in lens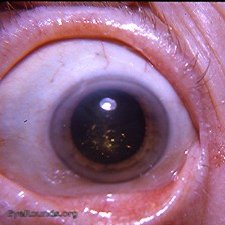 Occasionally, an ophthalmologist will be surprized when on routine slit-lamp examination, he discovers in an adult patient brightly colored, glistening needle-shaped crystals. A German expression for these crystals is " Christbaumschmuck " cataract, i.e. Christmas tree decoration cataract. They are a beautiful sight - short changed in the photograph. In German cholesterol crystals in the lens are called Christbaumschmuck Katarakt, i.e. Christmas tree decoration cataract. Under the slit-lamp the crystals can appear like multi-colored Christmas tree decorations.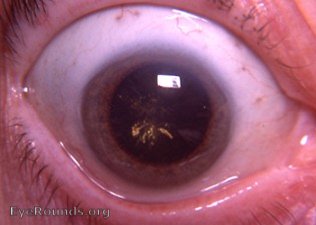 In this photograph the crystals are less vivid than when viewed with the slit-lamp.
Textbook statements sometimes are not fully supported by extensive clinical experience. Yanoff and Fine on page 375 in their Ocular Pathology state that cholesterol crystals may become deposited in long-standing cataracts. In Dr. Caccamise's experience with this beautiful cataract, the crystals most often are not an accompaniment of long-standing cataractous changes of the usual types.
---

Ophthalmic Atlas Images by EyeRounds.org, The University of Iowa are licensed under a Creative Commons Attribution-NonCommercial-NoDerivs 3.0 Unported License.
last updated: 02-08-2008