Tutorials
---
A Note About Our Tutorials
Tutorials are for review purposes only.
Material here is presented to initiate discussion.
Material presented may not be medically proven fact and should not be used to guide treatment.
Opinions expressed are not necessarily those of the University of Iowa.
Patients: please see our Patient Information Tutorials
---
Our Sponsors
We thank the Iowa Eye Association: Friends and Alumni of the Univeristy of Iowa Department of Ophthalmology and Visual Sciences
---
Suggested Citation Style for EyeRounds Cases
Author. Title. EyeRounds.org. date posted; Available from: http://www.eyerounds.org/cases/filename.htm.
example: Mullaney S, Vislisel J, Maltry A, Boldt HC. Choroidal Malignant Melanoma: 58-year-old female with pigmented retinal lesion and exudative retinal detachment. EyeRounds.org. July 8, 2014; available from https://eyerounds.org/cases/190-choroidal-malignant-Melanoma.htm
---
Featured Case:
MOG-IgG Associated Optic Neuritis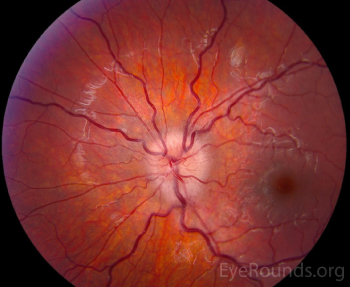 New Cases
Pathologic Myopia: 69-year-old woman presented for evaluation of decreased vision and "wavy lines" in the right eye for approximately one week.
Nanophthalmos with Ocular Hypertension and Angle-Closure: 37-year-old woman presented as a referral from her local eye doctor who found that her intraocular pressure (IOP) was high on routine eye examination.
Laser Pointer Maculopathy: 17-year-old previously healthy female who presented with acute vision loss in the right eye after playing with a sibling at home.
---