Festoon vs. Lower Eyelid Dermatochalasis
Photographer: Audrey C. Ko, MD
Contributor: Dabin Choi, BS; Aaron M. Ricca, MD; Audrey C. Ko, MD
Posted July 27, 2018
The festoon is a condition in which the attenuated orbicularis muscle and lax skin forms a cascading drape of edematous excess skin inferior to the inferior orbital rim and overlying the malar eminence (Figure 1). Its appearance ranges from malar edema, to malar mounds, to a festoon. Multiple factors contribute to the formation of festoons, including chronic soft tissue inflammation, age-related laxity of the orbicularis and skin, and severe lower eyelid dermatochalasis (LED). Post-operative edema and lymphatic imbalance may also increase the size and appearance of festoons (Figure 2). Treatment options for festoons include laser therapy, direct excision, and midface lift; elected therapy is based on the severity of the condition [1]. Festoons are often confused with LED due to their proximity to each other. While festoons are primarily located on the cheek below the orbital rim, LED primarily manifests as excess skin and fat prolapse of the lower eyelid (Figure 3) [2].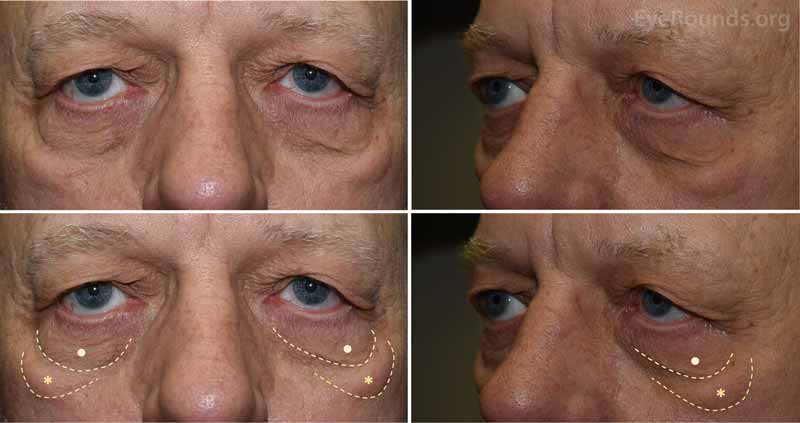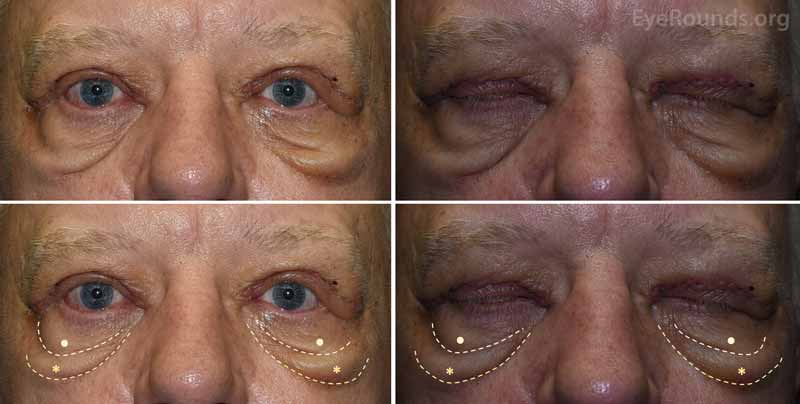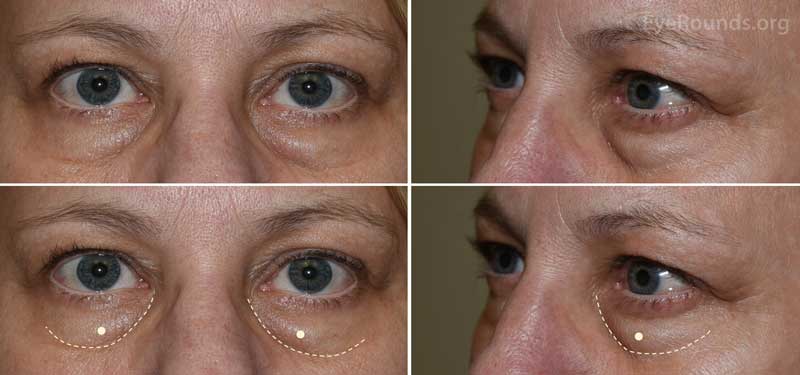 Reference(s)
Kpodzo DS, Nahai F, McCord CD. Malar mounds and festoons: review of current management. Aesthet Surg J 2014;34(2):235-248.  https://PubMed.gov/24431347. DOI: 10.1177/1090820x13517897
Branham GH. Lower Eyelid Blepharoplasty. Facial Plast Surg Clin North Am 2016;24(2):129-138.  https://PubMed.gov/27105798. DOI: 10.1016/j.fsc.2015.12.004
---

Ophthalmic Atlas Images by EyeRounds.org, The University of Iowa are licensed under a Creative Commons Attribution-NonCommercial-NoDerivs 3.0 Unported License.
last updated: 07/27/2018