EyeRounds Online Atlas of Ophthalmology
Contributor: William Charles Caccamise, Sr, MD, Retired Clinical Assistant Professor of Ophthalmology, University of Rochester School of Medicine and Dentistry
*Dr. Caccamise has very generously shared his images of patients taken while operating during the "eye season" in rural India as well as those from his private practice during the 1960's and 1970's. Many of his images are significant for their historical perspective and for techniques and conditions seen in settings in undeveloped areas.
Category: Cornea
Florid keratomalacia in an infant - due to vitamin A deficiency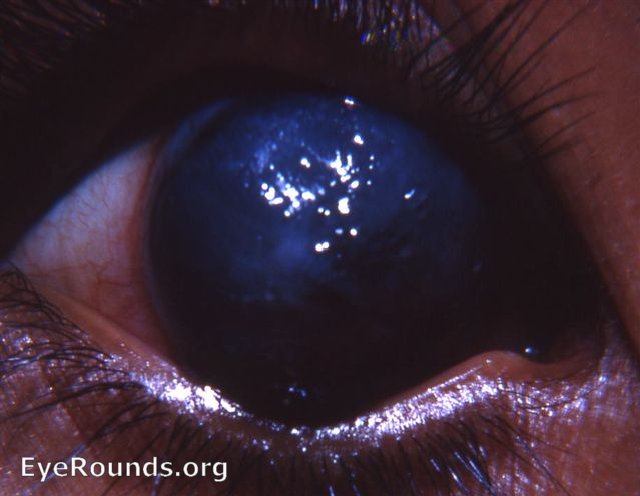 A startling example of advanced keratomalacia in an infant in rural India. The cornea is melting away and is lined with iris tissue. The term staphyloma is appropriate - etymologically derived from the Greek for "a bunch of grapes.". The future of this permanently blind eye is either to go into a huge bulging staphyloma or to go into phthisis bulbi.
From Dorland's Medical Dictionary: staphyloma corneae, corneal staphyloma, 1. ectasia of the cornea with adherent uveal tissue; called also projecting s. 2. staphyloma formed by an iris which has protruded through a wound in the cornea.



---

Ophthalmic Atlas Images by EyeRounds.org, The University of Iowa are licensed under a Creative Commons Attribution-NonCommercial-NoDerivs 3.0 Unported License.
last updated: 02-08-2008