The Effect of Hering's Law in Ptosis
Contributor: Dabin Choi, BS; Aaron M. Ricca, MD; Audrey C. Ko, MD
Photographer: Audrey C. Ko, MD
Posted June 28, 2018
A 62-year-old woman with a history of glaucoma and bilateral superior trabeculectomies presented with bilateral brow ptosis and right upper eyelid ptosis (Figure 1). The patient underwent bilateral brow ptosis repair by internal browpexy and right upper eyelid ptosis repair by external levator advancement (ELA). After unilateral upper eyelid ptosis repair, the patient developed contralateral ptosis (Figure 2) [2]. The reflexive descent of the contralateral upper eyelid after the unilateral raising of the ptotic eyelid is common and explained by Hering's Law. Surgical repair leads to decreased innervation to the bilateral levator palpebrae muscles, which are equally innervated [1]. The patient subsequently underwent a left upper eyelid ptosis repair by ELA.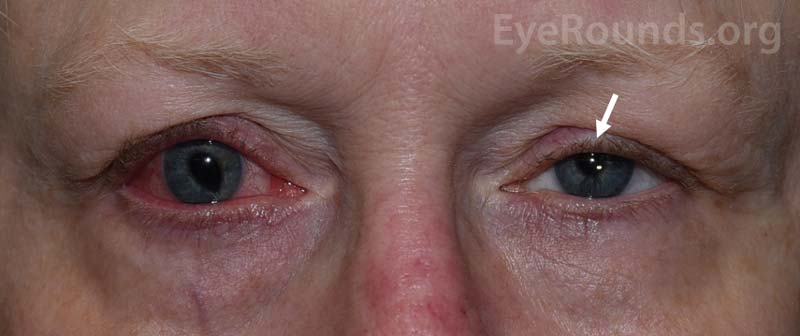 Reference(s)
Clark TJE, Klejch WJ, Wang K, Allen RC, Nerad JA, Carter KD, Shriver EM. Hering's Law in Congenital Ptosis: Evaluation of the Contralateral Response to Unilateral Congenital Ptosis Repair. Ophthalmic Plast Reconstr Surg 2018;34(3):284-290.  https://PubMed.gov/28723733. DOI: 10.1097/iop.0000000000000951

Worley MW, Gal O, Anderson RL, al Hariri A. Eye dominance and Hering's law effect on bilateral blepharotosis repair. Ophthalmic Plast Reconstr Surg 2013;29(6):437-439.  https://PubMed.gov/24192503. DOI: 10.1097/IOP.0b013e31829d02e8
---
Hering's Response
Contributor: Kelly H. Yom, BA; Aaron M. Ricca, MD; Audrey C. Ko, MD
Photographer: Audrey C. Ko, MD
Posted December 12, 2019
Hering's response describes the phenomenon in which manual elevation of one eyelid causes descent of the contralateral eyelid (video). This can be attributed to the yoked innervation of the levator palpebrae superioris muscles such that a singular signal controls both eyelids [1]. In the case of unilateral ptosis, while increased innervation to levator muscles compensates for decreased visual field on the affected side, the unaffected lid is simultaneously raised (panel A). When the ptotic lid is lifted – whether manually, pharmacologically, or surgically – this compensatory innervation is decreased and the unaffected lid falls (panel B). Therefore, unilateral ptosis repair may cause secondary ptosis of the contralateral eyelid and significant asymmetry; bilateral ptosis repair (either simultaneous or delayed) may be necessary for optimal results.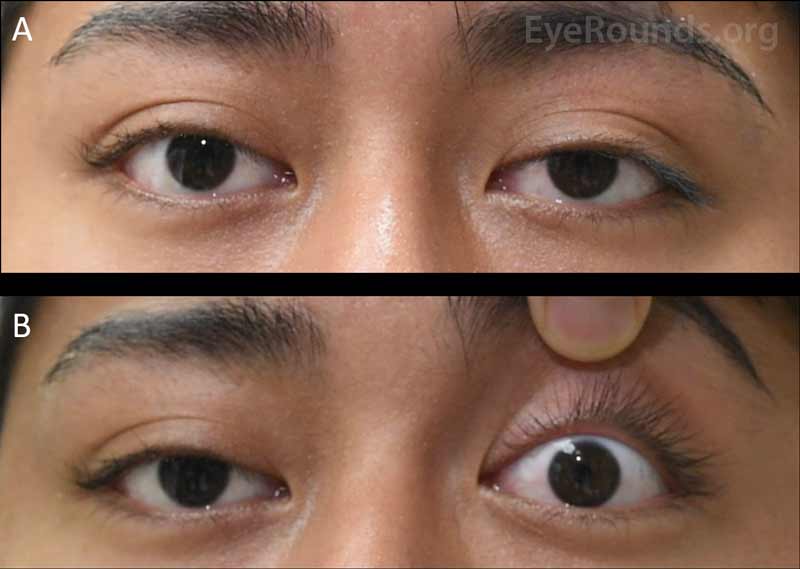 Note the position of the eyelid and the presence of the light reflex.
When the contralateral eyelid is manually raised, the right eyelid falls in height in relation to the iris due to decreased drive to raise the more ptotic eyelid.
Release of the ptotic left eyelid back to its initial position increases the drive of levator muscles bilaterally, re-elevating the right eyelid.
Note how elevation of the left eyelid causes loss of the corneal light reflex on the right side due to the lowered position of the eyelid.
References
Chen AD, Lai YW, Lai HT, Huang SH, Lee SS, Chang KP, Lai CS. The Impact of Hering's Law in Blepharoptosis: Literature Review. Ann Plast Surg 2016;76 Suppl 1:S96-100.  https://PubMed.gov/26808763. DOI: 10.1097/sap.0000000000000689
---

Ophthalmic Atlas Images by EyeRounds.org, The University of Iowa are licensed under a Creative Commons Attribution-NonCommercial-NoDerivs 3.0 Unported License.
last updated: 12/12/2019