Stellate corneal epithelial iron line after radial keratotomy (RK)
Contributor: Jesse Vislisel, MD
Photographer: Stefani Karakas, CRA
This photograph shows the radially oriented corneal incisions from prior radial keratotomy (RK) with a characteristic central stellate corneal epithelial iron line. The Prospective Evaluation of Radial Keratotomy (PERK) study found that these iron lines occur in 78-85% of eyes after RK depending on the duration that has elapsed since their surgery. The iron lines are not visually significant.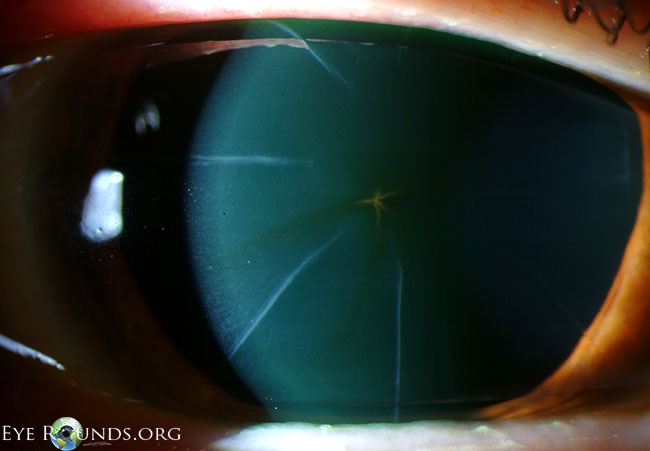 Reference
Steinberg EB, Wilson LA, Waring GO 3rd, Lynn MJ, Coles WH. Stellate iron lines in the corneal epithelium after radial keratotomy. Am J Ophthalmol. 1984; 98(4):416-21.
---

Ophthalmic Atlas Images by EyeRounds.org, The University of Iowa are licensed under a Creative Commons Attribution-NonCommercial-NoDerivs 3.0 Unported License.
last updated: 05/04/2014