EyeRounds Online Atlas of Ophthalmology
Contributor: William Charles Caccamise, Sr, MD, Retired Clinical Assistant Professor of Ophthalmology, University of Rochester School of Medicine and Dentistry
*Dr. Caccamise has very generously shared his images of patients taken while operating during the "eye season" in rural India as well as those from his private practice during the 1960's and 1970's. Many of his images are significant for their historical perspective and for techniques and conditions seen in settings in undeveloped areas.
Category: Cataract
Bell microerisiphake with Morgagnian cataract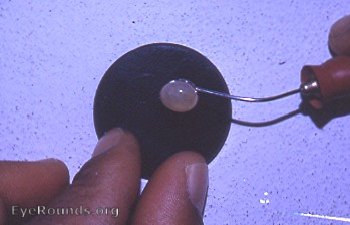 The hypermature cataract was the eye surgeon's cynosure in the operating room of the Kurji Holy Family Hospital Eye Clinic periodically from 1951 through 1968. The preferred method of extraction was the Smith-Indian operation where the lens capsule is touched as little as possible. If that method was not going to be successful, the bulb Bell microerisiphake (below) was employed. Here one sees a totally successful intracapsular extraction of a proud Morgagnian cataract - ready to burst at the slightest provocation. Several such cataracts were on the O.R. schedule each operating day.
Bell microerisiphake: a summary of instruments used during the waning days of intracapsular cataract surgery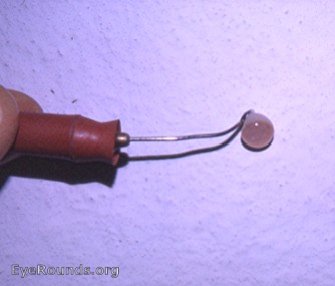 Just before the Kelman innovations sounded the death knell to intracapsular cataract surgery there were just a few techniques used by most surgeons: 1. the cryophake in its micro-form, 2. the erisiphake in its micro-form, 3. the smooth capsule forceps, and 4. the Smith-Indian technique with a lens expressor and a lens loop. The 4th technique was utilized by very few American eye surgeons. As an added note, the cataract in the photo is a classic hypermature Morgagnian cataract just removed by means of a Bell microerisiphake.
---

Ophthalmic Atlas Images by EyeRounds.org, The University of Iowa are licensed under a Creative Commons Attribution-NonCommercial-NoDerivs 3.0 Unported License.
last updated: 02-08-2008