EyeRounds Online Atlas of Ophthalmology
Contributor: Christopher C. Robinson, MD and Jordan M. Graff, MD, University of Iowa
Category: Retina
Branched Retinal Vein Occlusion (BRVO)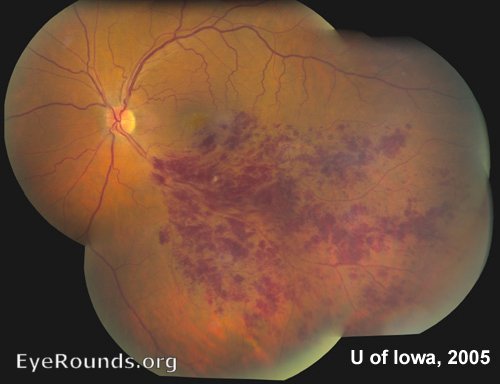 Classic sectoral hemorrhages are well-visualized in this case of Branched Retinal Vein Occlusion (BRVO). This condition is commonly associated with hypertension.
Please refer to the following case, https://webeye.ophth.uiowa.edu/eyeforum/cases/274-branch-retinal-vein-occlusion.htm, for further information regarding the work-up and management of branch retinal vein occlusions.

---

Ophthalmic Atlas Images by EyeRounds.org, The University of Iowa are licensed under a Creative Commons Attribution-NonCommercial-NoDerivs 3.0 Unported License.
last updated: 02-08-2008