Descemet Stripping Automated Endothelial Keratoplasty (DSAEK)
Contributor: Jesse Vislisel, MD
Photographers:  Stefani Karakas, CRA (A and B) , Cindy Montague, CRA, (C and D)
Descemet stripping automated endothelial keratoplasty (DSAEK) is a partial thickness cornea transplant procedure that involves selective removal of the patient's Descemet membrane and endothelium, followed by transplantation of donor corneal endothelium in addition to donor corneal stroma.  The photographs show the post-operative appearance of two different patients who underwent DSAEK for Fuchs endothelial corneal dystrophy.  The DSAEK grafts can be visualized as a subtle ring in diffuse illumination (A, C) and can be seen protruding posteriorly from the cornea in the inferior aspect of the slit beam in image B.  Read the related article for more information regarding modern corneal transplantation techniques.

Figure 2: Anterior segment optical coherence tomography demonstrating an attached DSAEK graft one day after surgery.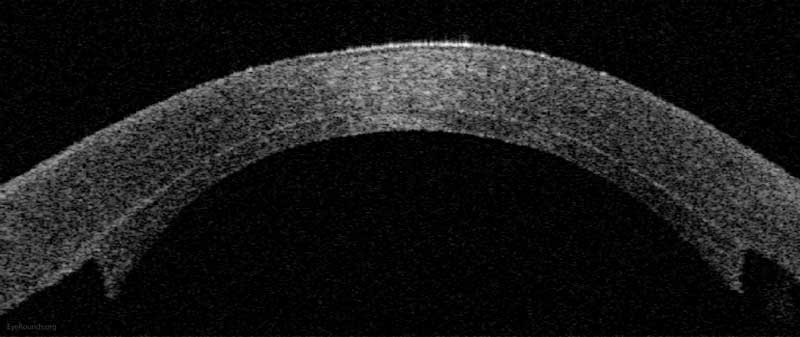 Ophthalmic Atlas Images by EyeRounds.org, The University of Iowa are licensed under a Creative Commons Attribution-NonCommercial-NoDerivs 3.0 Unported License.
last updated: 03/17/2016