EyeRounds Online Atlas of Ophthalmology
Contributor: William Charles Caccamise, Sr, MD, Retired Clinical Professor of Ophthalmology, University of Rochester School of Medicine and Dentistry
*Dr. Caccamise has very generously shared his images of patients taken while operating during the "eye season" in rural India as well as those from his private practice during the 1960's and 1970's. Many of his images are significant for their historical perspective and for techniques and conditions seen in settings in undeveloped areas.
Category: Glaucoma / Iris
Elliott trephine operation with usual filtering cystoid bleb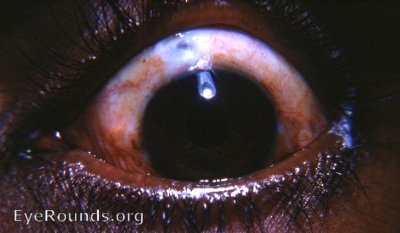 Elliot trephination for open-angle glaucoma was a popular procedure throughout the world until long after Elliot introduced his procedure at the turn of the 20th century (1900) - a procedure based on his work in Madras, India. At the same time, an entirely different personality Colonel Henry Jullundur Smith was promoting his intracapsular technique to the world. In the photograph, the desired and frequently obtained result from Elliot's operation is evident. As an addendum, it should be pointed out that Major Elliot was a trained ophthalmologist. Colonel Smith was a general surgeon in charge of a general hospital. He was famed - during the eye season - for his cataract surgery. But he was equally famed as a general surgeon at other times - especially for the removal of bladder stones - a major problem in India during his time.
---

Ophthalmic Atlas Images by EyeRounds.org, The University of Iowa are licensed under a Creative Commons Attribution-NonCommercial-NoDerivs 3.0 Unported License.
last updated: 02-08-2008