EyeRounds Online Atlas of Ophthalmology
Contributor: William Charles Caccamise, Sr, MD, Retired Clinical Assistant Professor of Ophthalmology, University of Rochester School of Medicine and Dentistry
*Dr. Caccamise has very generously shared his images of patients taken while operating during the "eye season" in rural India as well as those from his private practice during the 1960's and 1970's. Many of his images are significant for their historical perspective and for techniques and conditions seen in settings in undeveloped areas.
Category: Cataract
Hypermature Morgagnian cataract with white dots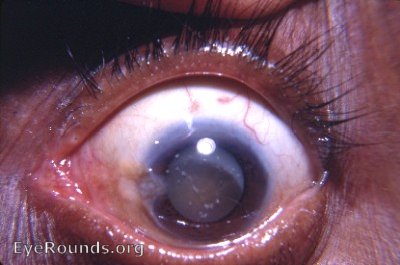 Under adequate magnification, white dots can be seen behind the anterior capsule. Some consider these to be a characteristic of the Morgagnian cataract.
Hypermature Morgagnian Cataract with pathognomonic white dots beneath the anterior capsule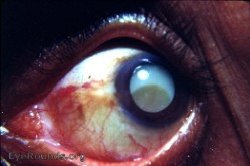 Notice the white dots posterior to the anterior capsule.
At the Eye Clinic these were considered - when present -to be supportive of a diagnosis of hypermature Morgagnian cataract. They are stressed in Fuchs's Textbook of Ophthalmology
In the intracapsular era, surgery on the hypermature Morgagnian cataract was a formidable task for the American ophthalmologist. Fortunately, he rarely was forced to face it. Contrariwise, it was among the commonest of cataracts in patients from the villages and countryside of India.Indian ophthalmologists are among the most prolific and skilled cataract surgeons in the world. The volume of their work and the pathology that they see cannot be imagined. From 1951 through 1968 when the Kurji Holy Family Hospital Eye Clinic was functioning, approximately 50% of the cataract operations were for the hypermature cataract. At the Eye Clinic, all patients for cataract surgery were handfingers or less in the eye for surgery. Of course, the patients with Morgagnian cataracts were light perception only. Some patients - fearing that no surgery would be offered them if they admitted to any vision - even refused to admit to light perception. In such cases, the reaction of the pupils to a pen light demonstrated whether a potentiality for post-op vision existed.
---

Ophthalmic Atlas Images by EyeRounds.org, The University of Iowa are licensed under a Creative Commons Attribution-NonCommercial-NoDerivs 3.0 Unported License.
last updated: 02-08-2008