EyeRounds Online Atlas of Ophthalmology
Contributor: William Charles Caccamise, Sr, MD, Retired Clinical Assistant Professor of Ophthalmology, University of Rochester School of Medicine and Dentistry
*Dr. Caccamise has very generously shared his images of patients taken while operating during the "eye season" in rural India as well as those from his private practice during the 1960's and 1970's. Many of his images are significant for their historical perspective and for techniques and conditions seen in settings in undeveloped areas.
Category: Cataract
Hypermature cataract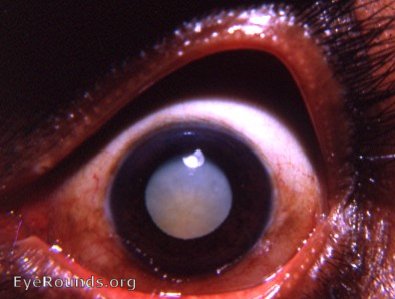 The photo demonstrates one of the frequently encountered cataracts for surgery in rural India. It is a hypermature senile cataract. The cortex is in early liquefaction. The iris shadow test for maturity reveals no shadow. The brown nucleus which is obscured by the anterior cortex has sunk below its normal, central location. There are some white dots of hypermaturity beneath the anterior capsule (1 can be seen beneath the light reflex in the photo - more could be seen with the slit-lamp). Cataract surgery must not lead to loss of the nucleus into the vitreos. Such a loss will lead to a marked inflammatory reaction. Fortunately, modern vitreosurgery techniques not available in 1966 when this photo was taken will now facilitate a retrieval of a lost nucleus.

---

Ophthalmic Atlas Images by EyeRounds.org, The University of Iowa are licensed under a Creative Commons Attribution-NonCommercial-NoDerivs 3.0 Unported License.
last updated: 02-08-2008