EyeRounds Online Atlas of Ophthalmology
Contributor: William Charles Caccamise, Sr, MD, Retired Clinical Assistant Professor of Ophthalmology, University of Rochester School of Medicine and Dentistry
*Dr. Caccamise has very generously shared his images of patients taken while operating during the "eye season" in rural India as well as those from his private practice during the 1960's and 1970's. Many of his images are significant for their historical perspective and for techniques and conditions seen in settings in undeveloped areas.
Category: Cataract
Improperly made von Graefe knife cataract incision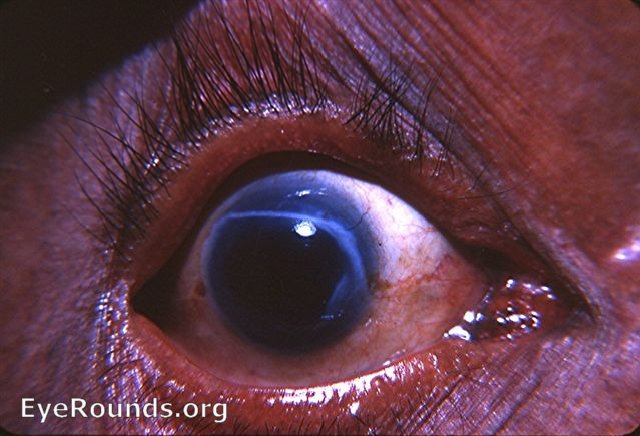 Skill with the von Graefe knife was the pride and sine qua non of a few of the American cataract surgeons up into the 1940s and even the 1950s. My Northwestern Professor Dr. Derrick Vail who trained under Dr. Henry Jullundur Smith in India was especially proud of this skill.
With the advent of sutures, the less demanding can opener method with keratome and scissors saved the day for many less skillful surgeons in the USA.
It should be pointed out that in the history of the von Graefe knife, Indian eye surgeons were among the most experienced and adroit.
Inaccurate von Graefe incision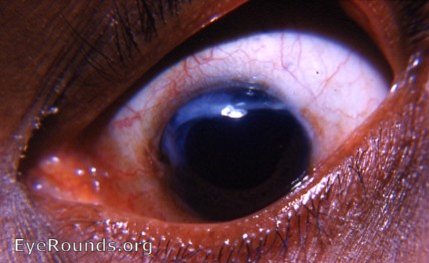 This is an example of a poorly executed von Graefe incision during a cataract operation OS. Since most surgeons are not ambidextrous, they frequently have more trouble with the left eye if they are right handed.
computer adjusted processing of the photo to permit better visualization of the iris - it appears that a complete iridectomy was performed during the extraction.
---

Ophthalmic Atlas Images by EyeRounds.org, The University of Iowa are licensed under a Creative Commons Attribution-NonCommercial-NoDerivs 3.0 Unported License.
last updated: 02-08-2008