Khodadoust Line (Corneal Endothelial Rejection)
---
Category(ies): Cornea / External Eye Disease
Photographer: Jody Troyer
Contributor: Lorraine Provencher, MD and Tara McGehee, MD
September 18, 2017
This is another example of a Khoudadoust line (endothelial rejection) in a patient with a long-standing penetrating keratoplasty. A slitlamp photograph using sclerotic scatter technique demonstrates inferior to superior progression of endothelial rejection with keratitic precipitates at the leading edge. The overlying stroma is hazy and edematous with evident Descemet's folds due to acute endothelial dysfunction.  The uninvolved superior corneal stroma is compact and clear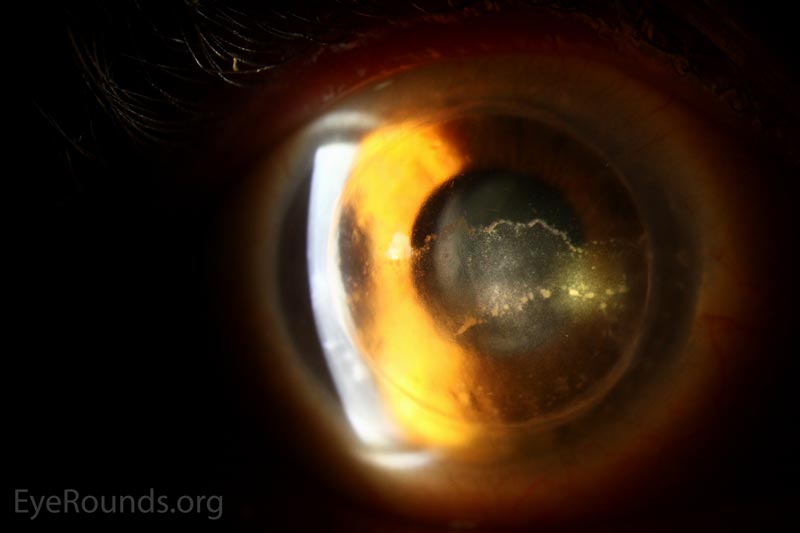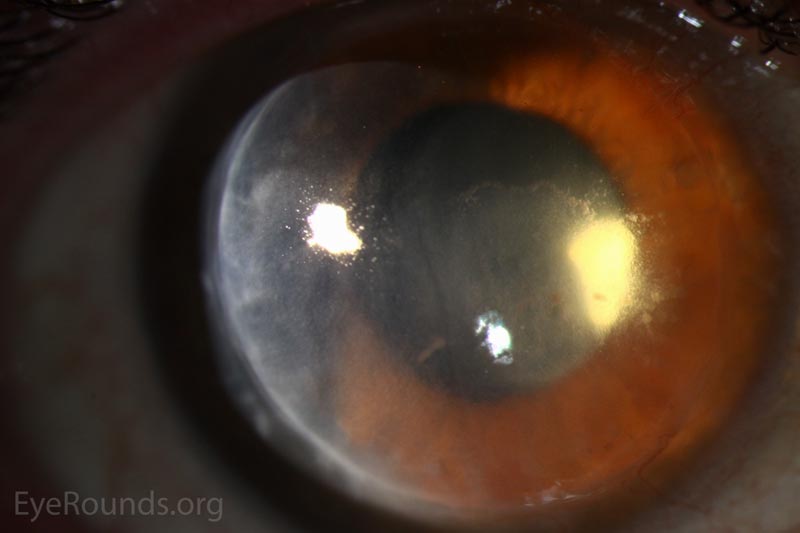 ---
Khodadoust Line
Contributors: Jeffrey Welder, MD; Matthew Raecker, MD
Photographer: Brice Critser, CRA
June 9, 2015
A 24-year-old female presented with acute allograft rejection after self-discontinuing her topical steroid drops after penetrating keratoplasty for keratoconus.
The figure shows corneal decompensation with inferior corneal edema and haze and a faint horizontal endothelial linear opacitiy which is more distinct with sclerotic scatter lighting. This opacity is a rejection line consistent of white blood cells on the endothlium and is also known as a Khodadoust line. This sign represents graft rejection and if left untreated will march across the graft.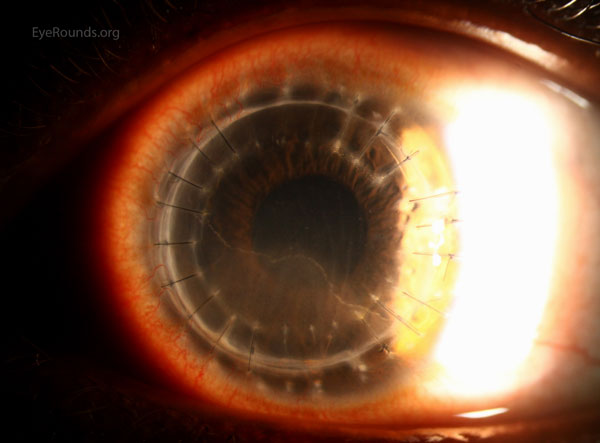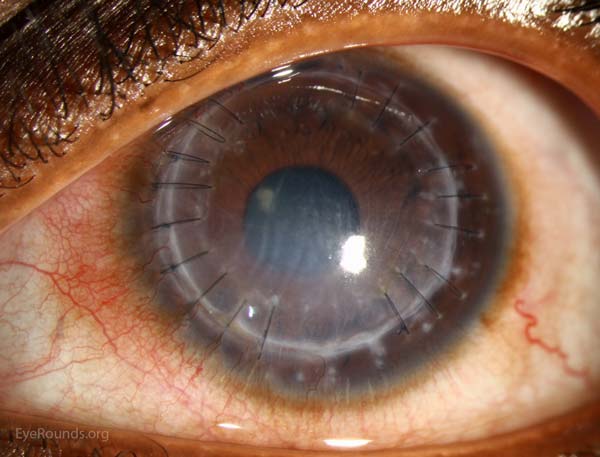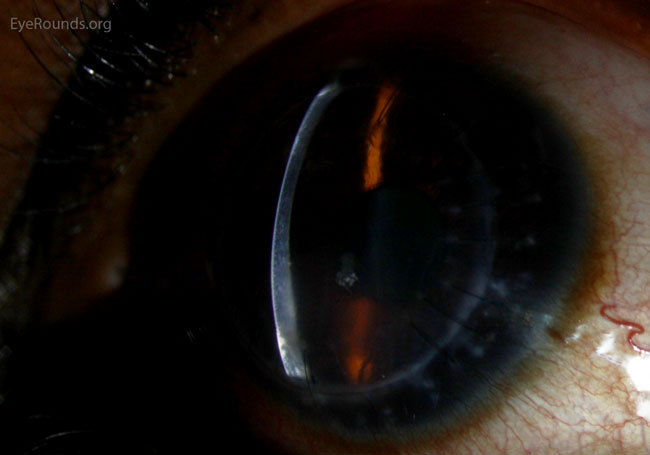 Khodadoust Line (Corneal Endothelial Rejection)
Contributor: Elizabeth Gauger, MD
Photographer: Brice Critser, CRA
56-year-old female status post full-thickness corneal transplant presented to our clinic with signs of endothelial cell rejection. This can be seen clinically as a Khodadoust line (arrow), which represents white blood cells on the endothelium. This "rejection line" usually begins in one area of the cornea and marches across the endothelium over time. In this particular patient, the rejection line began inferonasally and has now migrated all the way to the superior cornea. One can see that the cornea inferior to the line is much more edematous and hazy as compared with the cornea superior to the Khodadoust line, where the cornea is still relatively clear and the endothelium relatively unaffected. The slit beam is shown to illustrate that this line is indeed on the corneal endothelium.
click images for higher resolution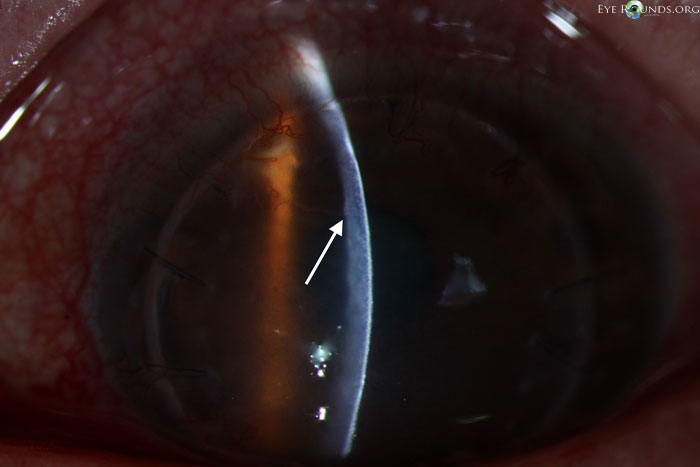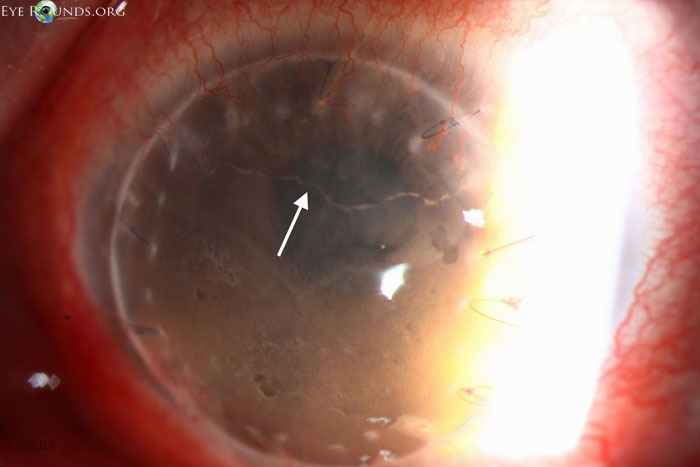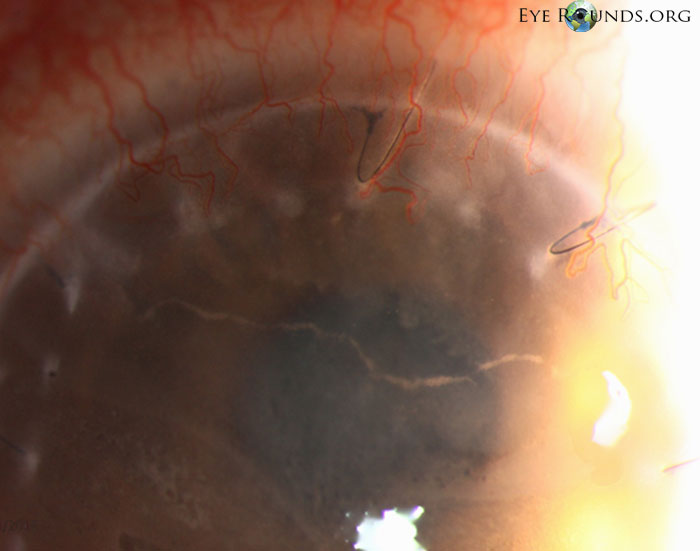 ---

Ophthalmic Atlas Images by EyeRounds.org, The University of Iowa are licensed under a Creative Commons Attribution-NonCommercial-NoDerivs 3.0 Unported License.
last updated: 09/18/2017; originally posted 2/14/2014;