Multiple evanescent white dot syndrome (MEWDS)
Contributor: Jesse Vislisel, MD; Karen Gehrs, MD
Photographer: Carol Chan, CRA
Multiple evanescent white dot syndrome (MEWDS) results from idiopathic inflammation of the retina. It is most common in healthy, young, white, myopic females and typically has an acute and unilateral presentation. As seen in the photograph, the condition causes multiple, discrete, gray-white spots in the outer retina or retinal pigmented epithelium (RPE). There are pathognomonic granular changes within the fovea. Mild intraocular inflammation may be present. Fundus fluorescein angiography (FFA) shows early punctate hyperfluorescence with late staining of the lesions arranged in a "wreath-like" configuration around the fovea. Optical coherence tomography (OCT) shows disruption of the outer retinal layers. The condition is self-limited with an excellent visual prognosis.
Figure 1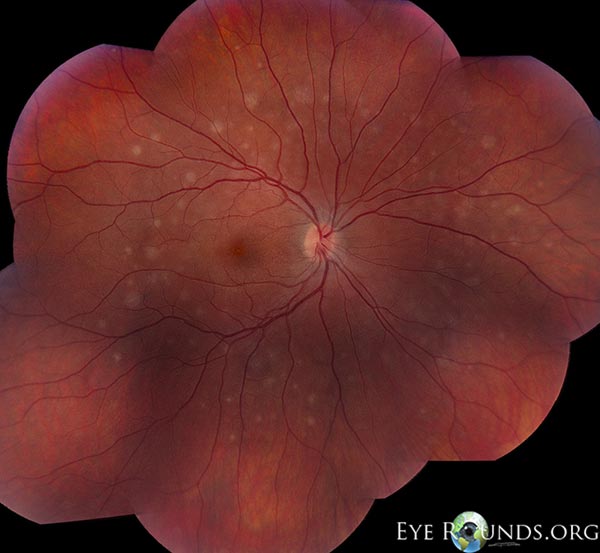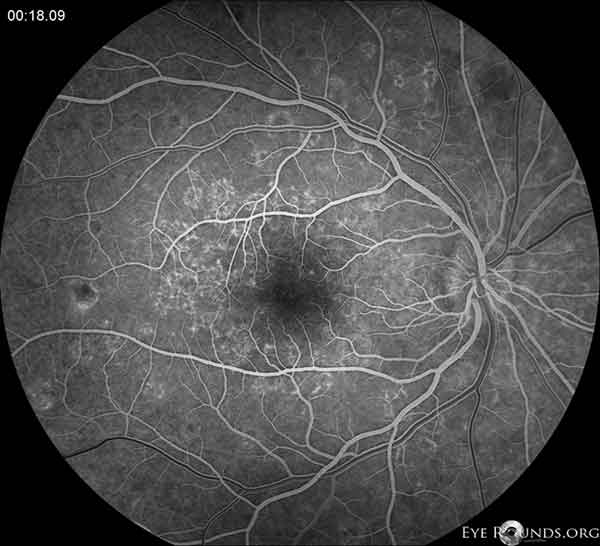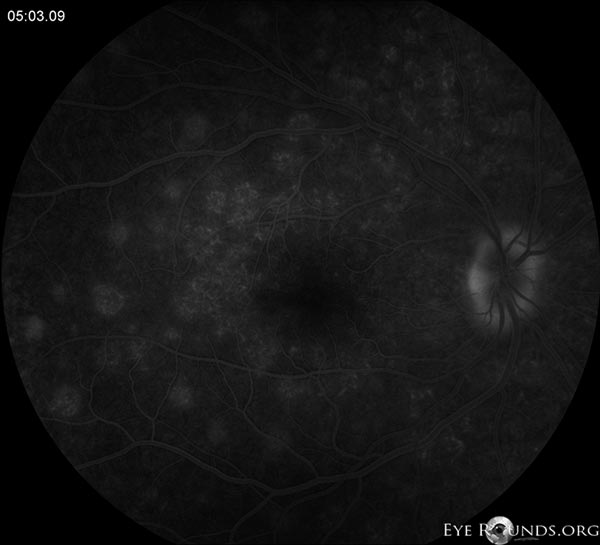 ---
Figure 2
Contributor: Jeffrey Welder, MD
Photographer: Brice Critser, CRA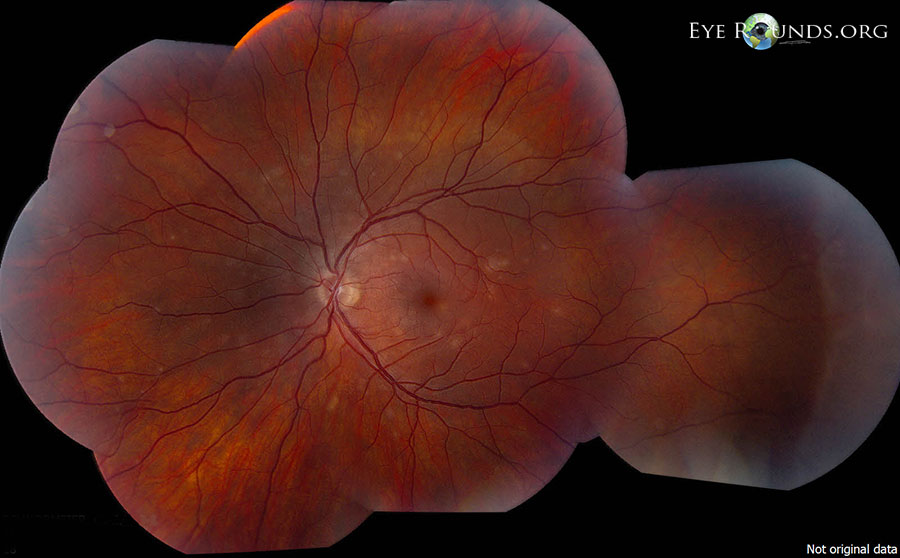 A 25-year-old male presented with 3 days of painless scotoma and photopsia in the left eye. Amsler grid testing revealed an enlarged blindspot. Fundus examination showed multiple subretintal white spots. Fluorescein angiography showed classic punctate hyperfluorescence in a wreath-like pattern in the left eye (photo at bottom of page). A diagnosis of MEWDS was made.
Fundus, right (normal) and left (abnormal)

| | |
| --- | --- |
| | |
| right | left |

---
Figure 3
Contributor: Luke Lenci, MD
Photographer: Brice Critser, CRA
This case represents the more severe end of the spectrum for MEWDS. This young, myopic female presented with a complaint of unilateral shimmering photopsias and a paracentral scotoma. Her exam showed the pathognomic subfoveal yellow/orange granularity in the right eye along with an FFA that had a classic "wreathlike" hyperfluorescence. Disc edema is also seen in the right eye.
Fundus Photos, both eyes
| | |
| --- | --- |
| | |
| right eye | left eye |
Right eye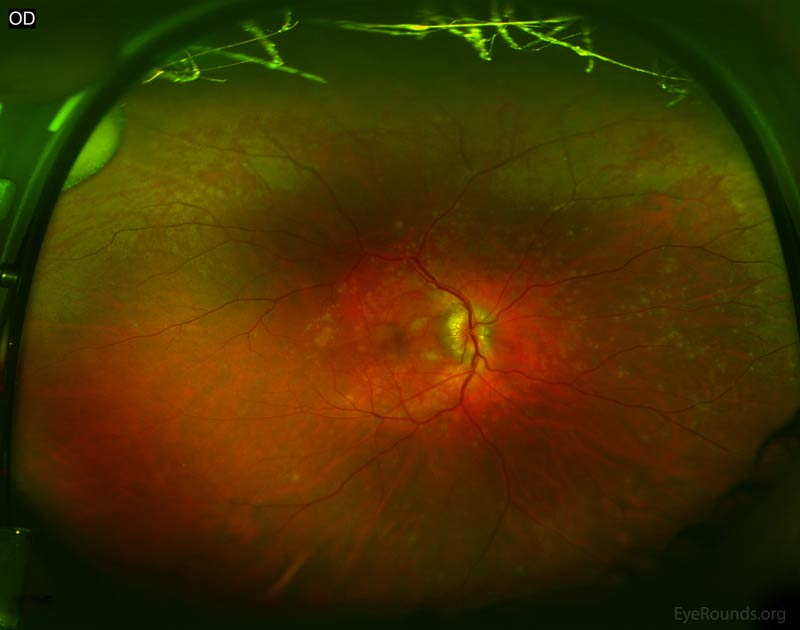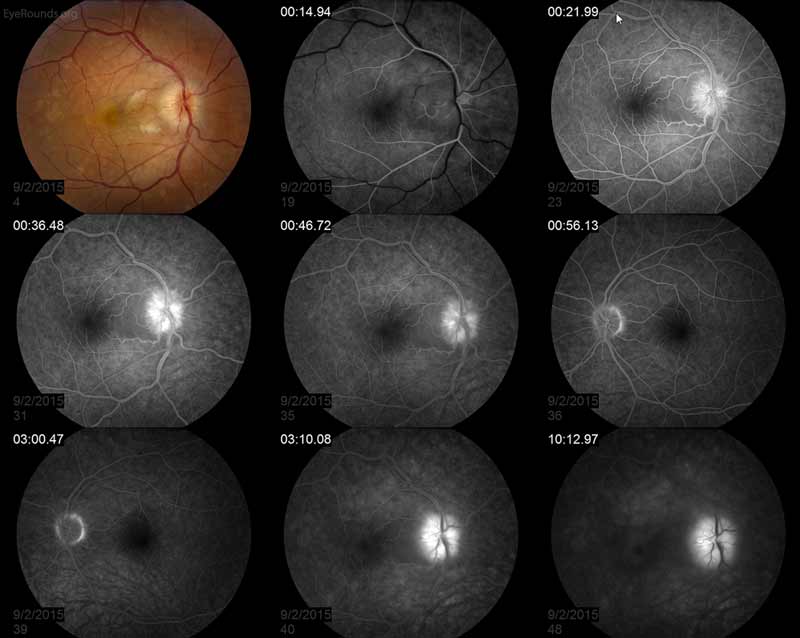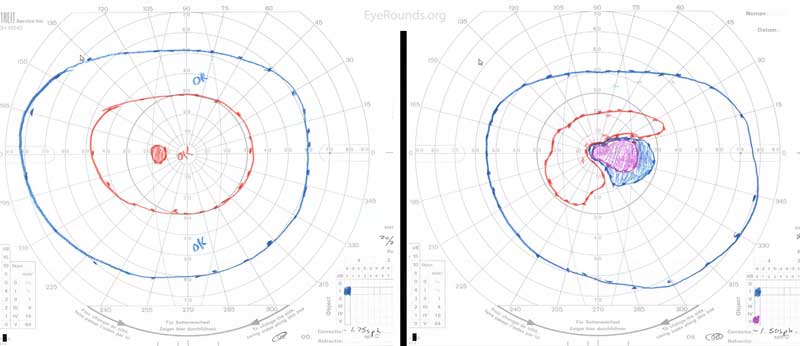 ---

Ophthalmic Atlas Images by EyeRounds.org, The University of Iowa are licensed under a Creative Commons Attribution-NonCommercial-NoDerivs 3.0 Unported License.
last updated: updated: 11-03-2015