EyeRounds Online Atlas of Ophthalmology
Contributor: William Charles Caccamise, Sr, MD, Retired Clinical Professor of Ophthalmology, University of Rochester School of Medicine and Dentistry
*Dr. Caccamise has very generously shared his images of patients taken while operating during the "eye season" in rural India as well as those from his private practice during the 1960's and 1970's. Many of his images are significant for their historical perspective and for techniques and conditions seen in settings in undeveloped areas.
Category: Cataract
Classic hypermature Morgagnian cataract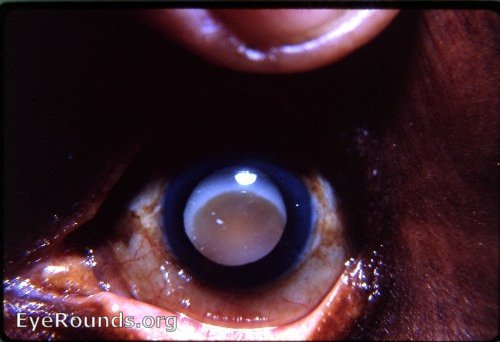 The patient was placed in a sitting position after having bent over. This allowed the brown nucleus to float into view just behind the anterior capsule. The milky portion is completely liquefied cortex. The white dots behind the anterior capsule are pathognomonic for the Morgagnian cataract - in my experience.If the patient is made to lie on his back for a few minutes , the brown nucleus may be totally obscured by the white liquefied cortex that inundates it. (1)
Rural India has always been " The Land of the Morgagnian Cataract ". In the USA, the Morgagnian cataract is a museum piece.
From 1951 through 1968, cataract surgery at the Kurji Holy Family Hospital Eye Clinic involved hundreds of Morgagnian cataracts. Surgery was performed either by the Smith-Indian method or by use of the Bell microerisiphake.(2)
References
1. Caccamise, W.C., The Morgagnian cataract. Its characteristics and surgery. Amer. J. Ophth. 1955;40:102. PMID 14388100
2. Caccamise, WC, . NY State J MedThe Microerisiphake in cataract surgery. 1953; 5 (23): 2849-52. PMID 13111485
---

Ophthalmic Atlas Images by EyeRounds.org, The University of Iowa are licensed under a Creative Commons Attribution-NonCommercial-NoDerivs 3.0 Unported License.
last updated: 02-08-2008