EyeRounds Online Atlas of Ophthalmology
Contributor: William Charles Caccamise, Sr, MD, Retired Clinical Assistant Professor of Ophthalmology, University of Rochester School of Medicine and Dentistry
*Dr. Caccamise has very generously shared his images of patients taken while operating during the "eye season" in rural India as well as those from his private practice during the 1960's and 1970's. Many of his images are significant for their historical perspective and for techniques and conditions seen in settings in undeveloped areas.
Category: Oculoplastics
Postop McReynold's procedure for pterygium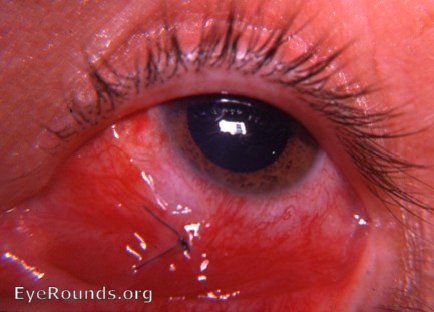 From 1903 until at least 1975 when the photo was taken, the McReynold's operation of transplantation of the pterygium was a standard procedure for this condition. The operation consisted of dissecting the head with the attached neck and part of the body of the pterygium from its bed.A suture was placed through the head and brought down into a bulbar conjunctival pocket that had been dissected inferiorly to 6 o'clock. The suture was anchored into the superficial sclera at six o'clock. The pocket flap was then pulled up over the body of the pterygium and then tacked down to the body of the pterygium. The result is seen in the photo.

---

Ophthalmic Atlas Images by EyeRounds.org, The University of Iowa are licensed under a Creative Commons Attribution-NonCommercial-NoDerivs 3.0 Unported License.
last updated: 02-08-2008