EyeRounds Online Atlas of Ophthalmology
Contributor: William Charles Caccamise, Sr, MD, Retired Clinical Assistant Professor of Ophthalmology, University of Rochester School of Medicine and Dentistry
*Dr. Caccamise has very generously shared his images of patients taken while operating during the "eye season" in rural India as well as those from his private practice during the 1960's and 1970's. Many of his images are significant for their historical perspective and for techniques and conditions seen in settings in undeveloped areas.
Category: Neuro-ophthalmology
Sturge-Weber Syndrome: a bulbar manifestation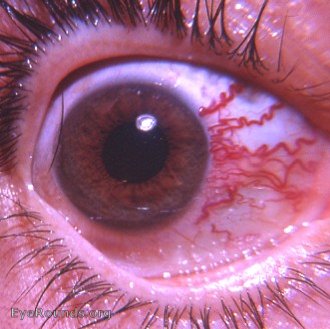 A bulbar " can of worms " bloodvessels in a patient with Sturge-Weber syndrome. In the photo, the facial vascularity is seen as vague speckling of the skin of the lid. In reality, the patient - a law school graduate - has a markedly disfiguring facial involvement that relegates him to law library work where he does not have to face the public. He is receiving laser treatment from a dermatologist for his right facial lesions. Reference: Stedman's Medical Dictionary:" Sturge-Weber syndrome, in full, a triad: congenital cutaneous angioma (flame nevus) in the distribution of the trigeminal nerve, usually unilateral, homolateral meningeal angioma with intracranial calcification and neurologic signs, and angioma of choroid, often with secondary glaucoma; incomplete forms of the syndrome may exhibit any two of the major features in variable degree."
---

Ophthalmic Atlas Images by EyeRounds.org, The University of Iowa are licensed under a Creative Commons Attribution-NonCommercial-NoDerivs 3.0 Unported License.
last updated: 02-08-2008