EyeRounds Online Atlas of Ophthalmology
Contributor: William Charles Caccamise, Sr, MD, Retired Clinical Assistant Professor of Ophthalmology, University of Rochester School of Medicine and Dentistry
*Dr. Caccamise has very generously shared his images of patients taken while operating during the "eye season" in rural India as well as those from his private practice during the 1960's and 1970's. Many of his images are significant for their historical perspective and for techniques and conditions seen in settings in undeveloped areas.
Category: Uveitis
Sympathetic ophthalmia - the exciting eye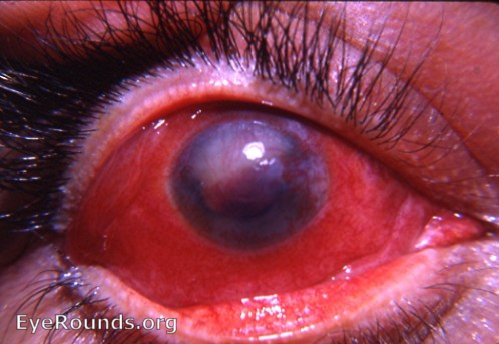 The patient - a young Indian male - walked into the Clinic as a seeing patient accompanied by a friend. Two months later he was led into the Clinic by the same friend - only now he was completely blind OU. During the inital visit the diagnosis was a normal OS and a slightly injured but otherwise normal OD. There was a wound dehiscence at the limbus at 1 o'clock with minimal incarceration of the iris. The patient was advised to be admitted for a simple surgical repair. He refused treatment and departed the Clinic. Two months later he returned with an exciting eye that appeared as in the photograph. There now was a sympathizing OS which had been ravaged by an overwhelming granulomatous uveitis.
---

Ophthalmic Atlas Images by EyeRounds.org, The University of Iowa are licensed under a Creative Commons Attribution-NonCommercial-NoDerivs 3.0 Unported License.
last updated: 02-08-2008