Thyroid eye disease
Contributor: Jordan M. Graff, MD, University of Iowa

This patient complained of double vision on down gaze. Restriction of the right eye in attempted downgaze is evident on exam.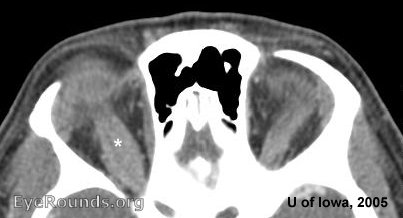 Infiltration of the right superior rectus muscle is clearly seen on this CT scan (marked with *). Compare this to the contralateral superior rectus.
---

Ophthalmic Atlas Images by EyeRounds.org, The University of Iowa are licensed under a Creative Commons Attribution-NonCommercial-NoDerivs 3.0 Unported License.
last updated: 02-08-2008