EyeRounds Online Atlas of Ophthalmology
Contributor: William Charles Caccamise, Sr, MD, Retired Clinical Assistant Professor of Ophthalmology, University of Rochester School of Medicine and Dentistry
*Dr. Caccamise has very generously shared his images of patients taken while operating during the "eye season" in rural India as well as those from his private practice during the 1960's and 1970's. Many of his images are significant for their historical perspective and for techniques and conditions seen in settings in undeveloped areas.
Category: Glaucoma / Iris
Adrenochromes - antioxidant deposits from epinephrine drops for open angle glaucoma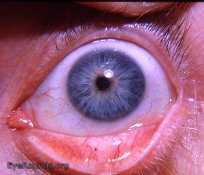 This photograph was taken in 1964. At that time P2E1 - 2% pilocarpine with 1% epinephrine - was commonly used in treating open-angle glaucoma. Oxidation products frequently caused pigmented conjunctival deposits -sometimes called adrenochromes. In the photograph a minute brown dot is seen - a typical pigment deposit due epinephrine in the glaucoma drops.There is a pinpoint spot about 2 to 3 mms from the upper lid margin at 3 o'clock that must be evaluated under the slit-lamp to determine whether it is an incipient adrenochrome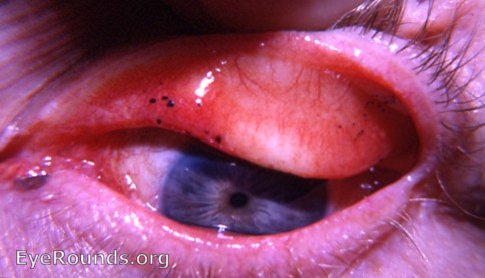 No imagination is required to see these brown conjunctival deposits caused by epinephrine drops.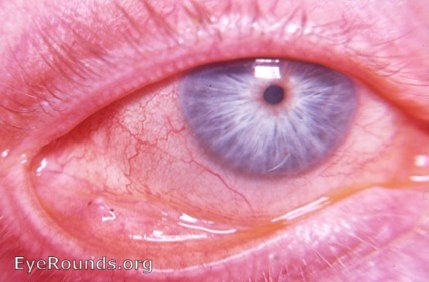 Careful observation will reveal 3 adrenochromes in this photo: 2 are close to the inferior fornix temporally and 1 is on the cornea a few mms from the limbus.
---

Ophthalmic Atlas Images by EyeRounds.org, The University of Iowa are licensed under a Creative Commons Attribution-NonCommercial-NoDerivs 3.0 Unported License.
last updated: 02-08-2008