EyeRounds Online Atlas of Ophthalmology
Contributor: William Charles Caccamise, Sr, MD, Retired Clinical Assistant Professor of Ophthalmology, University of Rochester School of Medicine and Dentistry
*Dr. Caccamise has very generously shared his images of patients taken while operating during the "eye season" in rural India as well as those from his private practice during the 1960's and 1970's. Many of his images are significant for their historical perspective and for techniques and conditions seen in settings in undeveloped areas.
Category: Pediatrics
Anatomical anomaly of caruncula lacrimalis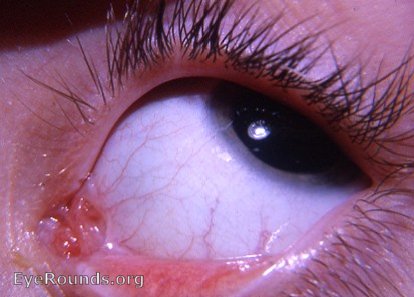 The patient was asymptomatic. Routine eye examination revealed the writhing snake appearance of the caruncle-plica semilunaris structures. This anatomical variant in no way resembles the description of the area given by Gray's Anatomy: " The caruncula lacrimalis is a small, reddish, conical-shaped body, situated at the medial palpebral commissure, and filling up the lacus lacrimalis. Lateral to the caruncle is a slight semilunar fold of conjunctiva, the concavity of which is directed toward the cornea it is called the plica semilunaris, "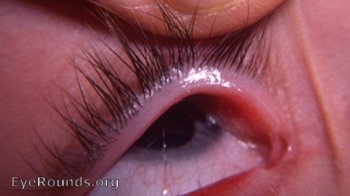 normal appearing caruncula lacrimalis and plica semilunaris

---

Ophthalmic Atlas Images by EyeRounds.org, The University of Iowa are licensed under a Creative Commons Attribution-NonCommercial-NoDerivs 3.0 Unported License.
last updated: 02-08-2008