EyeRounds Online Atlas of Ophthalmology
Angle recession and cyclodialysis after blunt trauma
Contributor: Jesse Vislisel, MD
Category: Glaucoma
Posted July 21, 2013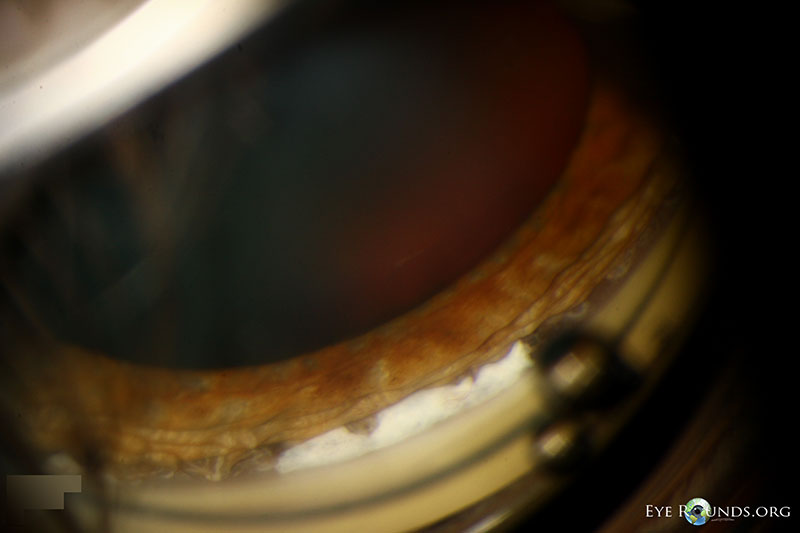 Traumatic angle recession on gonioscopic photos: This patient developed angle recession and a cyclodialysis cleft after racketball impact to the eye. Angle recession results from separation of the longitudinal and circular muscles of the ciliary body. Note the broad band of visible ciliary body face. He also had a cyclodialysis cleft, or separation of ciliary body from the scleral spur, which appears as a broad white band at the junction of the ciliary body and scleral spur.
---
Ultrasound biomicroscopy (UBM) of a traumatic cyclodialysis cleft
Contributor: Ze Zhang, MD
Posted April 27, 2018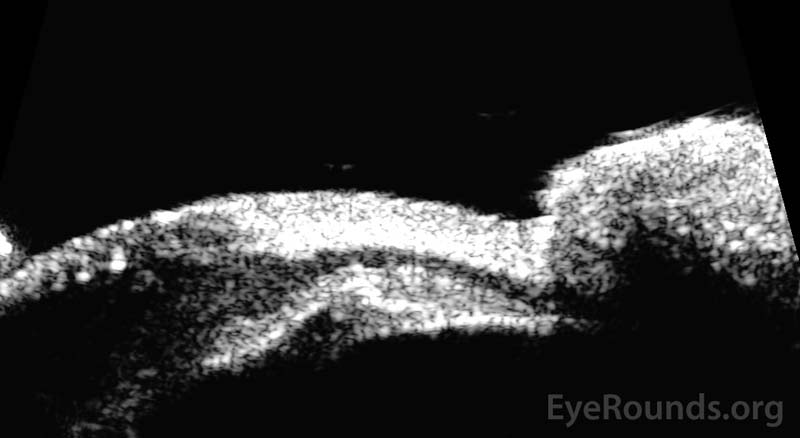 Traumatic cyclodialysis cleft on high frequency ultrasound biomicroscopy: This patient presented with hypotony after blunt trauma. Please note the separation of the ciliary body from the scleral spur, leading to a direct communication between the anterior chamber and the supraciliary space. Also note the blood in the angle which extends into the supraciliary space through the cleft.
---

Ophthalmic Atlas Images by EyeRounds.org, The University of Iowa are licensed under a Creative Commons Attribution-NonCommercial-NoDerivs 3.0 Unported License.
last updated: 7/21/2013; addition made 4/27/2018