Band keratopathy
Contributor: Meagan Seay, DO and Nasreen Syed, MD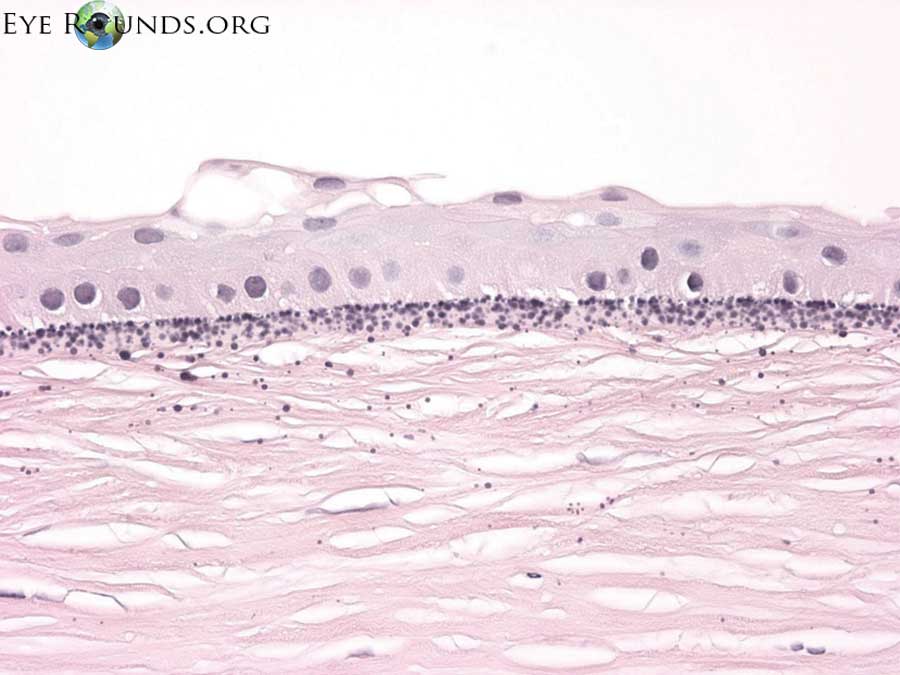 Calcium appears as basophilic granules on H&E stain. Calcium is deposited in Bowman layer and superficial stroma in band keratopathy.
---
Band keratopathy
Contributor: William Charles Caccamise, Sr, MD, Retired Clinical Assistant Professor of Ophthalmology, University of Rochester School of Medicine and Dentistry
*Dr. Caccamise has very generously shared his images of patients taken while operating during the "eye season" in rural India as well as those from his private practice during the 1960's and 1970's. Many of his images are significant for their historical perspective and for techniques and conditions seen in settings in undeveloped areas.
Category: Cornea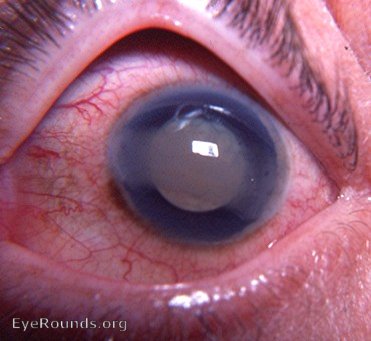 This is a chronically inflamed eye with a cataracta complicata and a chronic, smouldering uveitis. Band keratopathy occurs commonly in such eyes.
More advanced bandshaped keratopathy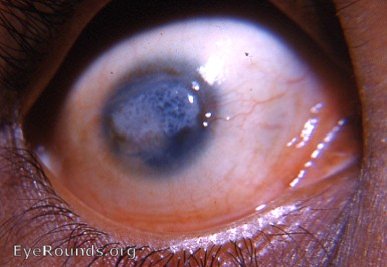 This photo shows a more advanced stage of bandshaped keratopathy with incipient calcium deposits. Bandshaped keratopathy most frequently occurs in eyes with longstanding intraocular inflammation. The patient is from the Himalayan hill country and demonstrates an epicanthal fold characteristic of India's Mongoloid population.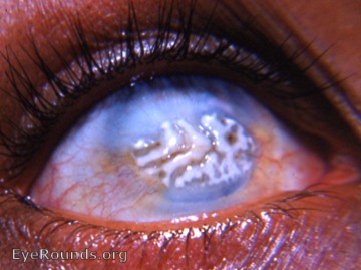 In chronically inflamed eyes, calcium deposition is common beneath the corneal epithelium. The photo shows a classic example of bandshaped keratopathy in an eye whose vision potential has been completely destroyed by intraocular inflammation and keratitis with leukomatous scarring.
---

Ophthalmic Atlas Images by EyeRounds.org, The University of Iowa are licensed under a Creative Commons Attribution-NonCommercial-NoDerivs 3.0 Unported License.
last updated: 6/19/2013