Bullous keratopathy following intracapsular cataract surgery
Contributor: William Charles Caccamise, Sr, MD, Retired Clinical Assistant Professor of Ophthalmology, University of Rochester School of Medicine and Dentistry
*Dr. Caccamise has very generously shared his images of patients taken while operating during the "eye season" in rural India as well as those from his private practice during the 1960's and 1970's. Many of his images are significant for their historical perspective and for techniques and conditions seen in settings in undeveloped areas.
Category: Cornea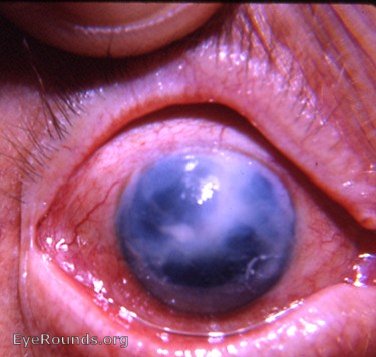 The photo shows a late stage of bullous keratopathy. The surgery appears to have been done well, but the cornea was not able to tolerate the procedure. Notice the perfectly healed von Graefe limbal incision. No sutures were used by the surgeon.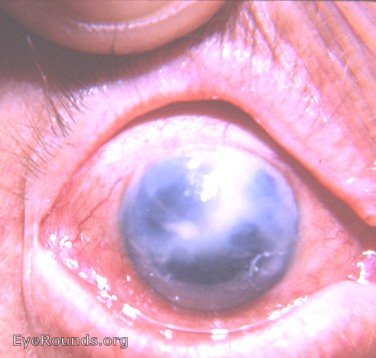 This is a manipulated version of photo 1 to enhance the visibility of the iris.
Bullous keratopathy following intracapsular cataract surgery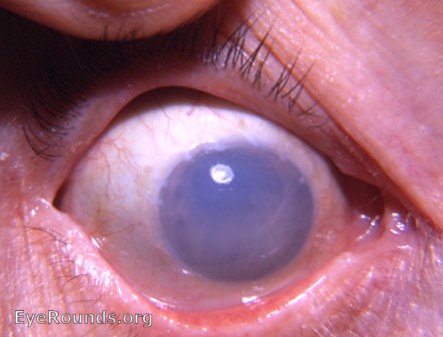 Very few cataract surgeons with extensive experience escaped this complication during a lifetime of surgery during the intracapsular era. This patient's surgery had been performed by an outstanding anterior segment surgeon.
Aphakic bullous keratopathy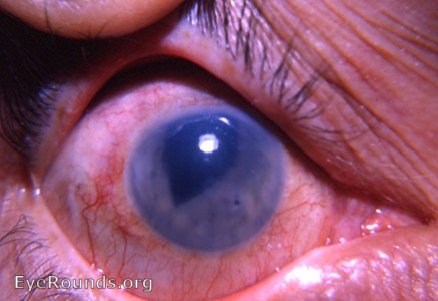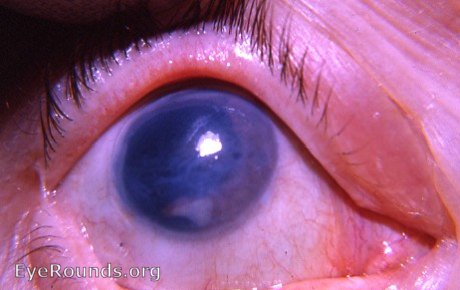 Following intracapsular cataract surgery with vitreous loss, this eye struggled with bullous keratopathy. The photo shows a huge ruptured bulla involving the cornea superiorly.The light reflex lies in the inferior bed of the ruptured bulla. The edge of the bulla can be seen superiorly from 11:00 o'clock to 1:00 o'clock. This was a major complication of cataract surgery in 1965 when this photo was taken. The loss of vitreous was a dreaded subject since the approach to its loss was extremely primitive compared to the wonderful techniques now employed by vitreous surgeons.
---

Ophthalmic Atlas Images by EyeRounds.org, The University of Iowa are licensed under a Creative Commons Attribution-NonCommercial-NoDerivs 3.0 Unported License.
last updated: 02-08-2008