Capsular folds secondary to posterior capsule opacification
Contributor: Jesse Vislisel, MD
Photographer: Brice Critser, CRA
This patient has an iris-sutured posterior-chamber intraocular lens, placed secondary to zonular weakness. This image, taken one month after the procedure, shows prominent capsular phimosis with radial folds and central 2-3+ capsular opacification. This was treated using a Nd:YAG laser posterior capsulotomy.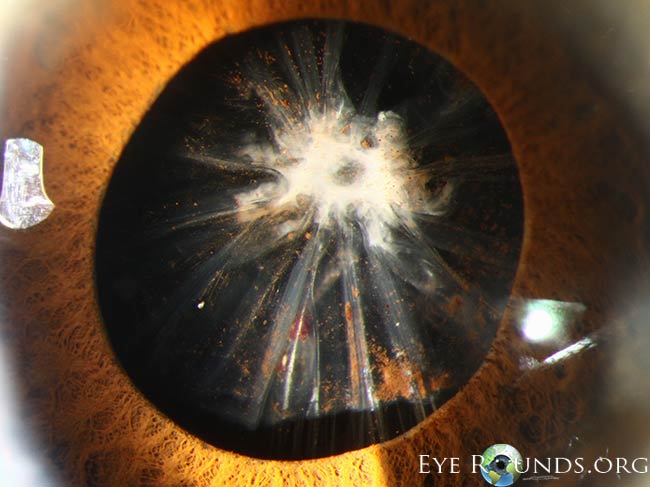 (click image for higher resolution)
Revised June 6, 2016, with thanks to Dr. Luis Alberto Real, Cirujano Oftalmólogo, Especializado en la Clínica Barraquer, Sub-especializado en el IOBA, Valladolid, España
---

Ophthalmic Atlas Images by EyeRounds.org, The University of Iowa are licensed under a Creative Commons Attribution-NonCommercial-NoDerivs 3.0 Unported License.
last updated: 06/06/2016