EyeRounds Online Atlas of Ophthalmology
Contributor: William Charles Caccamise, Sr, MD, Retired Clinical Assistant Professor of Ophthalmology, University of Rochester School of Medicine and Dentistry
*Dr. Caccamise has very generously shared his images of patients taken while operating during the "eye season" in rural India as well as those from his private practice during the 1960's and 1970's. Many of his images are significant for their historical perspective and for techniques and conditions seen in settings in undeveloped areas.
Category: Cornea
Cornea: total corneal decompensation with diffuse epithelial edema following cataract surgery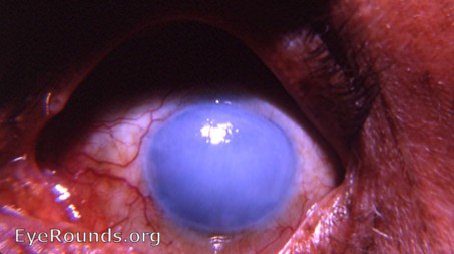 Catastrophic corneal misbehaviour is a potentiality that every cataract surgeon must realize exists. The eye in this case was subjected to cataract surgery by a highly experienced and skilled professor of ophthalmolgy. The more common causes are:
aphakic/ pupillary block glaucoma
vitreous problems, e.g. vitreous loss or vitreous incarceration in the incisional wound
splitting of Descemet's membrane from the posterior cornea when the incision is being made
aggravation of Fuchs' epithelial/ endothedlial dystrophy by the surgery
occasionally, alpha-chymotrypsin precipitates corneal decompensation. This photo was taken in 1966.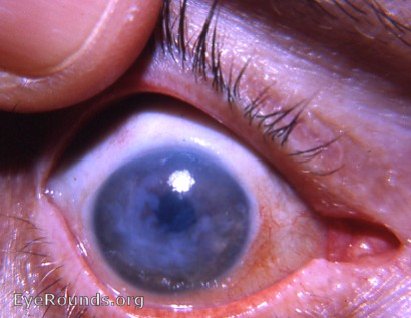 Fuchs' epithelial-endothelial corneal dystrophy
---

Ophthalmic Atlas Images by EyeRounds.org, The University of Iowa are licensed under a Creative Commons Attribution-NonCommercial-NoDerivs 3.0 Unported License.
last updated: 02-08-2008