EyeRounds Online Atlas of Ophthalmology
Contributor: William Charles Caccamise, Sr, MD, Retired Clinical Assistant Professor of Ophthalmology, University of Rochester School of Medicine and Dentistry
*Dr. Caccamise has very generously shared his images of patients taken while operating during the "eye season" in rural India as well as those from his private practice during the 1960's and 1970's. Many of his images are significant for their historical perspective and for techniques and conditions seen in settings in undeveloped areas.
Category: Cataract
Corneal staphyloma following sutureless cataract surgery complicated by huge iris prolapse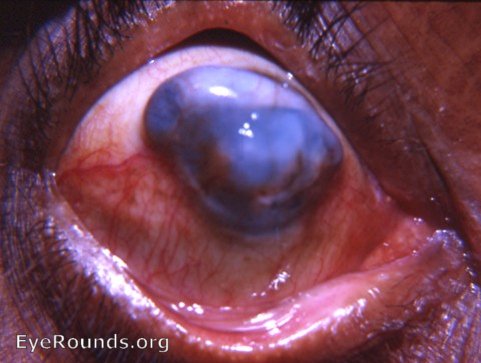 Dr. Caccamise's interpretation of the history of this cataract surgery gone awry:
The patient's operation consisted of a 180 degree von Graefe incision superiorly. The knife could have been brought out at the limbus or a small conjunctival flap could have been formed as the knife was withdrawn slightly above the limbus. A peripheral (occasionally a complete) iridectomy was performed. Why was an iridectomy the essential in cataract surgery? It was common knowledge that if the wound opened post-operatively the gushing out of aqueous in a simple (no iridectomy) extraction would almost certainly result in an iris prolapse. The exiting aqueous would carry out of the wound with it the iris that did not have a portal offered by the hole of an iridectomy.
The iridectomy offers a protection against iris prolapse. Later it became recognized that there existed a pupillary block mechanism that could be avoided by an iridectomy. In this patient, both eyes were patched after surgery. A few days later the patches were removed and a huge iris prolapse was evident. Since the surgeon did not use sutures, no surgical repair was initiated. The healing process was allowed to go on its merry way. Miraculously, the blind eye did heal - but unfortunatel in this grotesque manner. The advice to the hesitant patient should be that given by my Professor Derrick Vail at Northwestern when he was a consultant: " My dear man, have that eye removed immediately before it explodes in your head!"
---

Ophthalmic Atlas Images by EyeRounds.org, The University of Iowa are licensed under a Creative Commons Attribution-NonCommercial-NoDerivs 3.0 Unported License.
last updated: 02-08-2008