EyeRounds Online Atlas of Ophthalmology
Contributor: William Charles Caccamise, Sr, MD, Retired Clinical Professor of Ophthalmology, University of Rochester School of Medicine and Dentistry
*Dr. Caccamise has very generously shared his images of patients taken while operating during the "eye season" in rural India as well as those from his private practice during the 1960's and 1970's. Many of his images are significant for their historical perspective and for techniques and conditions seen in settings in undeveloped areas.
Category: Cornea
Corneal staphyloma with keratomalacia OU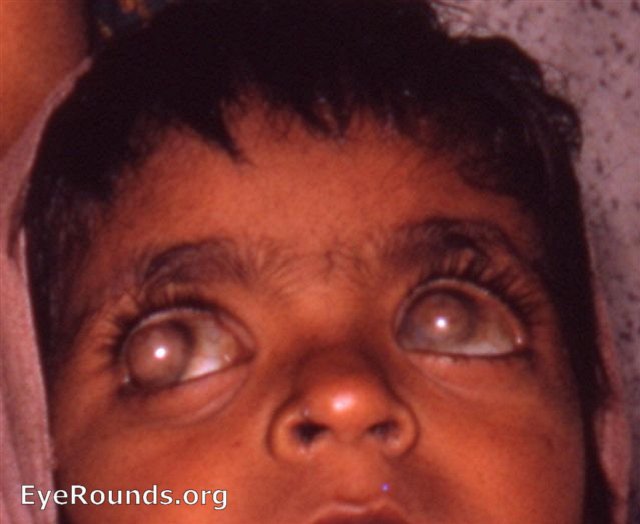 The terms hydrophthalmus and buphthalmus are used synonymously. However, one might contend that hydrophthalmus should mean primary congenital glaucoma later accompanied by enlargement of the eye. Buphthalmus could arguably be used for secondary glaucoma in infancy that leads to enlargement of the eye. At the Kurji Holy Family Hospital Eye Clinic, the patient in the photograph would be diagnosed as having buphthalmus - secondary glaucoma with enlargement of the eye. With Vitamin A deficiency,there was a resultant keratomalacia followed by perforation of the cornea. The iris rushed to plug the site of perforation. Interference with the aqueous drainage system of the eye by the ensuing intraocular pathology caused an increase in intraocular pressure, i.e. secondary glaucoma. In a young child, the increased pressure led to enlargement of the eye as seen in the photograph, i.e a bulging staphyloma with the appearance of a scarred ox-eye. Buphthalmus is from the Greek for ox and eye.
---

Ophthalmic Atlas Images by EyeRounds.org, The University of Iowa are licensed under a Creative Commons Attribution-NonCommercial-NoDerivs 3.0 Unported License.
last updated: 02-08-2008