Gray crescent of the optic nerve head
Contributor: Justin Risma, MD
Photographer: Brice Critser, CRA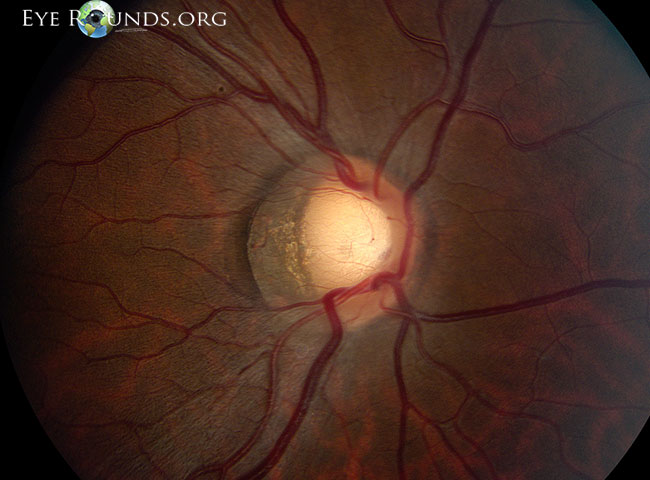 click image for higher resolution
Gray crescents of the optic nerve head are crescent-shaped areas of slate gray pigmentation in the substance of the peripheral optic nerve head. They are more common in African American patients, but are not associated with an increased risk of glaucoma. They are important to recognize and differentiate from peripapillary pigmentation, because failing to do so might lead one to misinterpret the width of the neuroretinal rim. This 34-year-old African American male might appear to have severe thinning of the temporal neuroretinal rim, but if the examiner traces the margin of the optic disc carefully and realizes there is a gray crescent, he will appreciate the rim of healthy optic nerve tissue temporally. Optical coherence tomography revealed normal thickness of the retinal nerve fiber layer in all quadrants surrounding the optic nerve head.
Reference:
Shields, MB. Gray Crescent in the Optic Nerve Head. American Journal of Ophthalmology. 1980; 89:238-244.
---

Ophthalmic Atlas Images by EyeRounds.org, The University of Iowa are licensed under a Creative Commons Attribution-NonCommercial-NoDerivs 3.0 Unported License.
last updated: 12/23/2013