Herbert's pits (trachoma)
Contributor: Justin Risma, MD
Photographer: Stefani Karakas, CRA
Category: External disease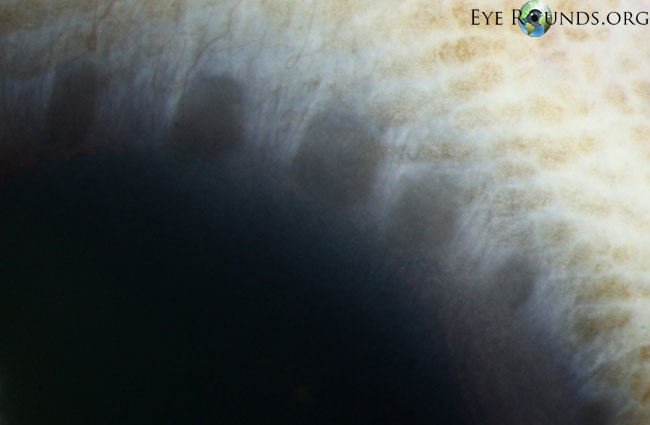 click image for higher resolution
Trachoma is the most common cause of infectious blindess in the world. It is caused by the bacterium Chlamyida trachomatis which is spread by poor hygiene, contaminated water, and houseflies. Acute trachoma is characterized by a follicular conjunctivitis that is usually bilateral and usually more prominent on the superior tarsal conjunctiva. Follicles may also appear at the limbus, and when these heal, they form the pathognomonic cicatrial scars pictured here, known as Herbert's pits.
---
Follicles involving the limbus-each is a pre-cursor to a Herbert's pit
Contributor: William Charles Caccamise, Sr, MD, Retired Clinical Assistant Professor of Ophthalmology, University of Rochester School of Medicine and Dentistry
*Dr. Caccamise has very generously shared his images of patients taken while operating during the "eye season" in rural India as well as those from his private practice during the 1960's and 1970's. Many of his images are significant for their historical perspective and for techniques and conditions seen in settings in undeveloped areas.
Category: Cornea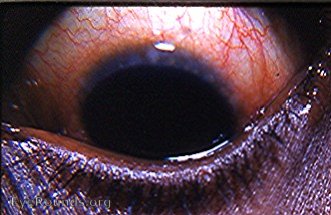 The pinhead-sized grayish lesions involving the limbus are precursors to the Herbert's pits that are very suggestive of trachoma.
---

Ophthalmic Atlas Images by EyeRounds.org, The University of Iowa are licensed under a Creative Commons Attribution-NonCommercial-NoDerivs 3.0 Unported License.
last updated: 12/23/2013