EyeRounds Online Atlas of Ophthalmology
Contributor: William Charles Caccamise, Sr, MD, Retired Clinical Assistant Professor of Ophthalmology, University of Rochester School of Medicine and Dentistry
*Dr. Caccamise has very generously shared his images of patients taken while operating during the "eye season" in rural India as well as those from his private practice during the 1960's and 1970's. Many of his images are significant for their historical perspective and for techniques and conditions seen in settings in undeveloped areas.
Category: Uveitis
Heterochromia iridis caused by chronic cyclitis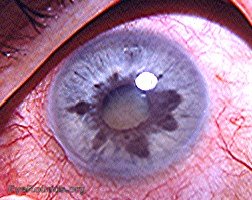 The differential diagnosis in this case of heterochromia in a Caucasian patient lies between Fuchs' heterochromic cyclitis and heterochromia following continual attacks of cyclitis/anterior uveitis. In Fuchs' the patient's subjective symptoms are usually confined to blurred vision commensurate with cataract changes related to the underlying disease. The profound problem within the eye becomes apparent only through the ophthalmologist's discovering defects in the iris' pigment epithelium layer (the appearance of small holes), non-granulomatous type keratic precipitates that are scattered over the posterior surface of the cornea, absence of posterior synechiae, white dots adherent to the framework of the vitreous,and a cataract that progresses from a posterior subcapsular stage to a mature cataracta complicata stage. Importantly, unlike the eye in the photograph, posterior synechiae are an extreme rarity. Also, the amount of circumcorneal injection and of bulbar conjunctival hyperemia evident in the photograph is not frequent in Fuchs' cases. Under high magnification rubeosis iridis is evident at 3 o'clock in the photo. However, that can occur in both Fuchs' and non-Fuchs' cases of heterochromia.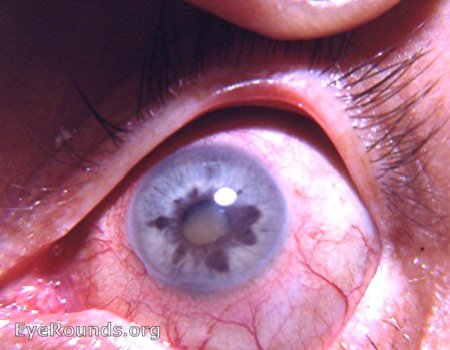 The differential diagnosis is between Fuchs' heterochromic cyclitis and heterochromia as a result of profound iris atrophy caused by continual attacks of anterior uveitis. This is the same photo as #1 but in higher magnification.

---

Ophthalmic Atlas Images by EyeRounds.org, The University of Iowa are licensed under a Creative Commons Attribution-NonCommercial-NoDerivs 3.0 Unported License.
last updated: 02-08-2008