Hyphema following aborted iStent procedure
Contributor: Austin R. Fox, MD, and Michael Griess, MD
Photographer: Moneeb Akhtar, BS
Posted August 21, 2018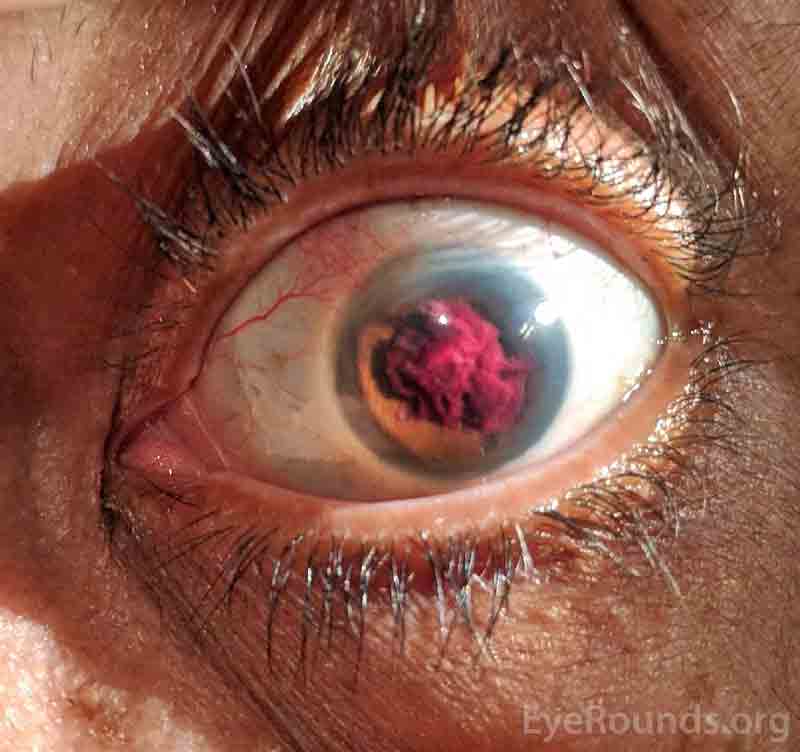 External photograph of the left eye shows a contracting post-operative hyphema two weeks after an iStent® trabecular micro-bypass procedure. The surgery had been aborted due to development of a hyphema and poor view. A hyphema is a rare complication during iStent insertion but has been reported in several publications [1-7]. However, microhyphemas observed on gonioscopy after the iStent procedure are more commonly seen.
References
Samuelson TW, Katz LJ, Wells JM, Duh YJ, Giamporcaro JE; US iStent Study Group. Randomized evaluation of the trabecular micro-bypass stent with phacoemulsification in patients with glaucoma and cataract. Ophthalmology. 2011;118(3):459-67.
Patel I, de Klerk TA, Au L. Manchester iStent study: early results from a prospective UK case series. Clin Exp Ophthalmol. 2013;41(7):648-52.
Sandhu S, Arora S, Edwards MC. A case of delayed-onset recurrent hyphema after iStent surgery. Can J Ophthalmol. 2016;51(6):e165-e167.
Buchacra O., Duch S., Milla E., and Stirbu O.: One-year analysis of the iStent trabecular microbypass in secondary glaucoma. Clin Ophthalmol 2011; 5: pp. 321-326
Donnenfeld ED, Solomon KD, Voskanyan L, Chang DF, Samuelson TW, Ahmed II, Katz LJ. A prospective 3-year follow-up trial of implantation of two trabecular microbypass stents in open-angle glaucoma. Clin Ophthalmol. 2015;9:2057-65.
Khouri AS, Megalla MM. Recurrent hyphema following iStent surgery managed by surgical removal. Can J Ophthalmol. 2016;51(6):e163-e165.
Shiba D, Hosoda S, Yaguchi S, Ozeki N, Yuki K, Tsubota K. Safety and Efficacy of Two Trabecular Micro-Bypass Stents as the Sole Procedure in Japanese Patients with Medically Uncontrolled Primary Open-Angle Glaucoma: A Pilot Case Series. J Ophthalmol. 2017;2017:9605461.
---

Ophthalmic Atlas Images by EyeRounds.org, The University of Iowa are licensed under a Creative Commons Attribution-NonCommercial-NoDerivs 3.0 Unported License.
last updated: 08/21/2018