Laser Pointer Maculopathy
Contributor: Kristina Damisch, M2
Faculty Sponsor: Alison Bozung, OD
April 19, 2017

This is a 16-year-old male who suffered a laser pointer injury to his right eye and subsequently found that he had a small central area of "blackness" that made it difficult to read. On fundus exam, the right eye showed a small, depigmented, circular defect just temporal to the center of the fovea. OCT showed a small cavitation at this location with IS/OS disruption. The Amsler grid was normal for the left eye but demonstrated a small central scotoma in the right eye. The exam was otherwise normal including 20/20 vision OU.
On one month follow-up, Amsler grid testing demonstrated a reduced scotoma size, and the patient reported that he notices the deficit less. The visible lesion near the fovea had healed somewhat and appeared smaller on OCT and fundus exam.

2 days after injury: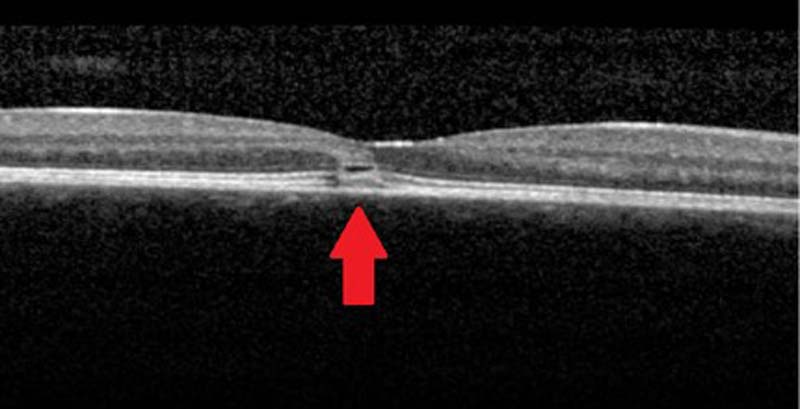 One month after injury:
**higher resolution images not available
---

Ophthalmic Atlas Images by EyeRounds.org, The University of Iowa are licensed under a Creative Commons Attribution-NonCommercial-NoDerivs 3.0 Unported License.
last updated: 04/19/2017