EyeRounds Online Atlas of Ophthalmology
Contributor: Andrew Doan, MD, PhD, for Sohan S. Hayreh, MD, PhD, University of Iowa
Category: Neuro-ophthalmology
Non-arteritic anterior ischemic optic neuropathy (NAION)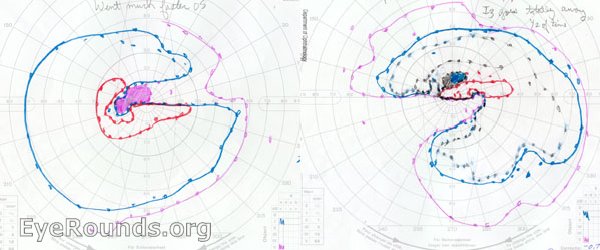 This patient experienced bilateral vision loss on awakening. She had bilateral optic nerve swelling with the visual fields below. Note how the visual field defect respects the horizontal raphe distribution of the nerve fiber layer.
---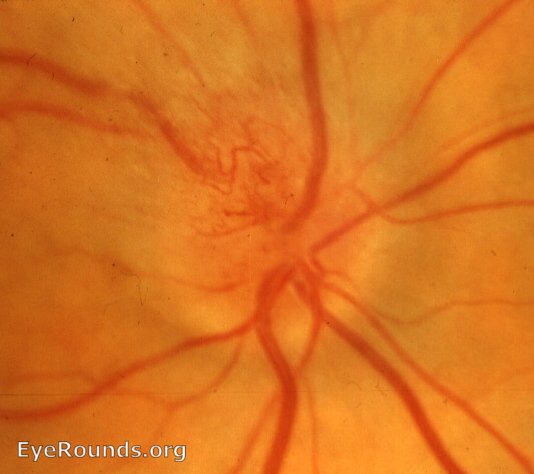 1) Fundus photographs of right eye of a diabetic patient with non-arteritic AION showing. During early stages optic disc edema involving the superior temporal part of the optic disc and prominent vessels in that region.
---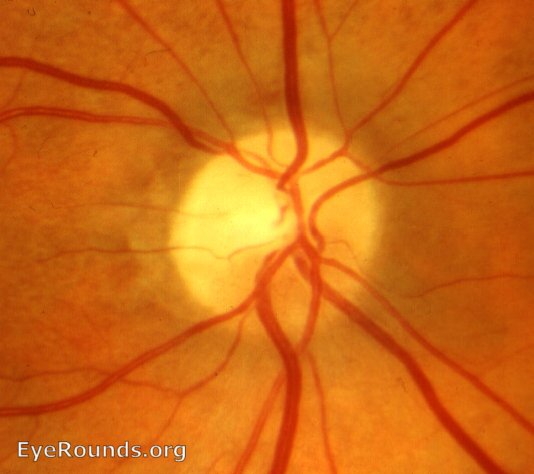 2) During later stages: pale color (atrophy) in the upper half of the optic disc - more marked in the temporal than the nasal part, and spontaneous resolution of the prominent blood vessels on the optic disc.

---

Ophthalmic Atlas Images by EyeRounds.org, The University of Iowa are licensed under a Creative Commons Attribution-NonCommercial-NoDerivs 3.0 Unported License.
last updated: 02-08-2008