Choroidal osteoma
Contributor: Jesse Vislisel, MD
Photographer: Brice Critser
Choroidal osteomas are benign neoplasms in which areas of the choroid are replaced with mature bone. The tumors are most commonly solitary, unilateral, and juxtapapillary in location which helps differentiate them from idiopathic sclerochoroidal calcification. They appear clinically as ovoid subretinal lesions, ranging from yellow-white to orange-red in color, sometimes with overlying pigmentary changes. This photograph shows an individual with a choroidal osteoma beneath the macula in the right eye. The OCT scan portrays a highly-reflective lesion at the level of the choroid with associated subretinal fluid. The A-scan shows the high reflectivity of the mass. The B-scan reveals the extent of the highly echogenic lesion and the associated acoustic shadowing which is characteristic for these tumors.
To learn more about choroidal osteomas, read the EyeRounds case report.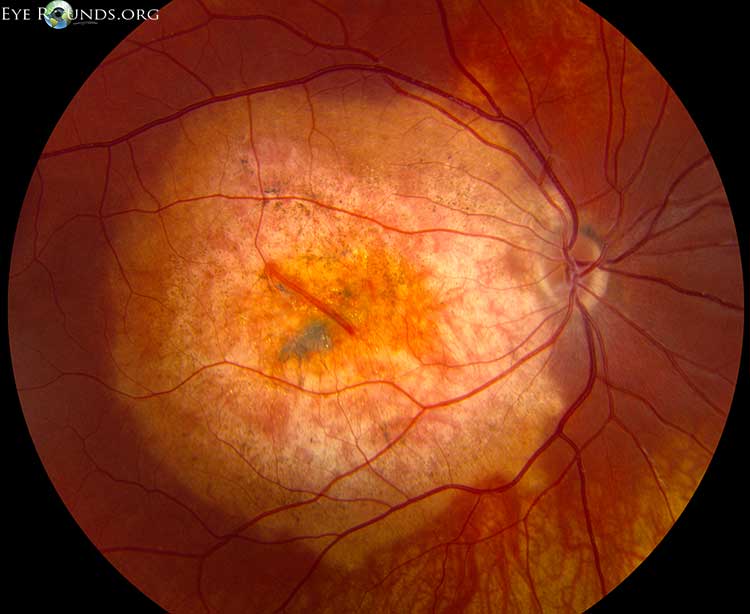 ---
Other choroidal osteoma images
Contributor: Glen Bianchi, MD and Andrew Doan, MD, PhD, University of Iowa
submitted 2004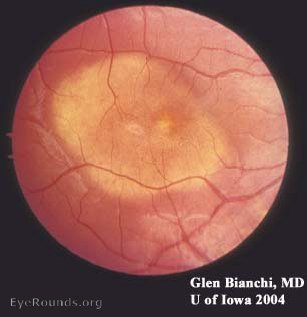 ---
Contributor: Andrew Doan, MD, PhD, and Tom Fisher, University of Iowa
submitted 2004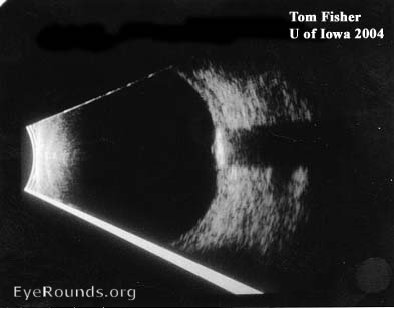 Note shadowing on B-scan
---

Ophthalmic Atlas Images by EyeRounds.org, The University of Iowa are licensed under a Creative Commons Attribution-NonCommercial-NoDerivs 3.0 Unported License.
last updated: 09/02/2014