EyeRounds Online Atlas of Ophthalmology
Contributor: William Charles Caccamise, Sr, MD, Retired Clinical Assistant Professor of Ophthalmology, University of Rochester School of Medicine and Dentistry
*Dr. Caccamise has very generously shared his images of patients taken while operating during the "eye season" in rural India as well as those from his private practice during the 1960's and 1970's. Many of his images are significant for their historical perspective and for techniques and conditions seen in settings in undeveloped areas.
Category: Cataract
Perfectly couched eye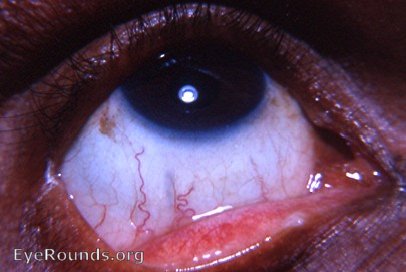 An older male presented himself for evaluation of a left eye with poor vision. The history was very vague - he thought that something had been done to his right eye- he was satisfied with his +10.00 lens for that eye. Sometimes he wore it, and sometimes he was satisfied with the uncorrected vision in that eye. He was illiterate.
Examination of the right eye revealed a completely normal anterior segment. The pupil was round and active. The iris was intact - no iridectomy was evident. No lens was present in the pupil area. The fundus appearance was that of an aphakic eye. However, when the patient was instructed to look far down, a handheld illuminator revealed the intact lens lying quietly on the floor of the anterior vitreous chamber. A beautiful view was obtained with Schepens binocular indirect ophthalmoscope. It was then apparent that the eye had been couched. Careful examination of the inferior temporal quadrant of the bulbar conjunctiva and sclera revealed the vague, slghtly gray couch mark at 6:30 to 7:30 o'clock and 3 to 4 mms from the limbus.
It was a real challenge - a humbling one - for an American eye surgeon to perform a standard intracapsular cataract extraction on the second eye after the patient had had an excellent result from couching. The couched patient had been blind; the coucher instilled a few drops; there was a quick movement of the hand; and the patient's sight had immediately been restored. For the second eye, there would be hospitalization then an anesthetic by injection around the eye. That would be followed by a sterile prep. Then came a 20 minute procedure with sutures. That was all followed by a 6 day stay in the hospital. And later there was the awful removal of sutures.
It was no wonder that the patient and his relatives were nervous and questioning of the whole procedure. Couching had been so uncomplicated for all.
---

Ophthalmic Atlas Images by EyeRounds.org, The University of Iowa are licensed under a Creative Commons Attribution-NonCommercial-NoDerivs 3.0 Unported License.
last updated: 02-08-2008