EyeRounds Online Atlas of Ophthalmology
Contributor: William Charles Caccamise, Sr, MD, Retired Clinical Assistant Professor of Ophthalmology, University of Rochester School of Medicine and Dentistry
*Dr. Caccamise has very generously shared his images of patients taken while operating during the "eye season" in rural India as well as those from his private practice during the 1960's and 1970's. Many of his images are significant for their historical perspective and for techniques and conditions seen in settings in undeveloped areas.
Category: Cataract
Phacolytic glaucoma due to leaking Morgagnian cataract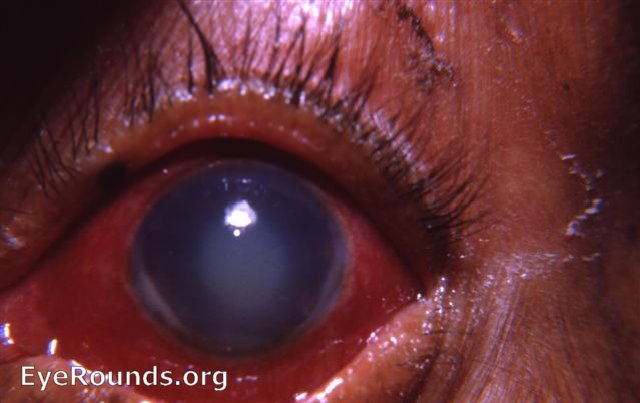 This is a condition that must be diagnosed correctly. In rural India, the ophthalmologist is keenly aware of this condition. A frequent history is as follows: an older patient with successful cataract surgery several years earlier is rushed to the Clinic in acute and intolerable pain. Examination reveals the findings so-well depicted in this photograph - it is classic. A markedly increased intraocular pressure is found. The pupil before the attack would have been milky whie. Now it is a hazy gray. Debris may be evident in the anterior chamber.The diagnosis is phacolytic glaucoma induced by leakage from the hypermature Morgagnian cataract. Kurji, Bihar, and rural India represented the " Land of the Morgagnian Cataract ". Phacolytic glaucoma requires immediate extraction of the cataract. Of course, attempts should be made to lower the pressure medically before surgery - but the cataract surgery must be performed immediately. It will give a spectacular result.
---

Ophthalmic Atlas Images by EyeRounds.org, The University of Iowa are licensed under a Creative Commons Attribution-NonCommercial-NoDerivs 3.0 Unported License.
last updated: 02-08-2008