EyeRounds Online Atlas of Ophthalmology
Contributor: William Charles Caccamise, Sr, MD, Retired Clinical Assistant Professor of Ophthalmology, University of Rochester School of Medicine and Dentistry
*Dr. Caccamise has very generously shared his images of patients taken while operating during the "eye season" in rural India as well as those from his private practice during the 1960's and 1970's. Many of his images are significant for their historical perspective and for techniques and conditions seen in settings in undeveloped areas.
Category: Cornea
Pronounced striate keratitis following intracapsular cataract surgery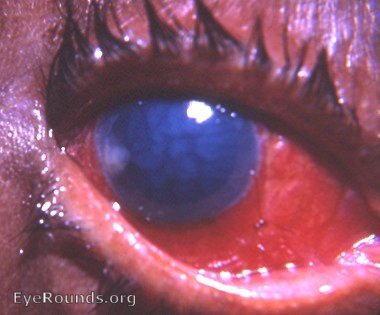 Dorland's Medical Dictionary: "striate keratopathy, corneal stromal edema causing a network of lines, which is a common, temporary occurrence after cataract surgery. Cf. striate keratitis." In some literature the term alphabet keratitis is used synonymously with striate keratitis. In a German language counterpart of the English language Duke-Elder, i.e. Der Augenarzt von Velhagen, Vol.III
1960, pages 334 - 336, there is a to-the-point discussion of " so-called keratitis striata " under the section title: " Changes in Descemet's membrane". Fortunately, the folds in Descemet's membrane usually clear completely. (The corneal scar at the limbus at 9 o'clock was present prior to surgery.)

\
---

Ophthalmic Atlas Images by EyeRounds.org, The University of Iowa are licensed under a Creative Commons Attribution-NonCommercial-NoDerivs 3.0 Unported License.
last updated: 02-08-2008