Retinal Astrocytic Hamartomas
Contributor: Jesse Vislisel, MD
March 8, 2013
Retinal astrocytic hamartomas are the most common ocular finding of tuberous sclerosis complex. Note the obvious calcified astrocytic hamartomas in both eyes, commonly referred to a "mulberry lesions" due to their multinodular appearance. The right fundus also contains a more subtle non-calcified astrocytic hamartoma which can be spotted as a hazy area overlying the superotemporal arcade.
Right eye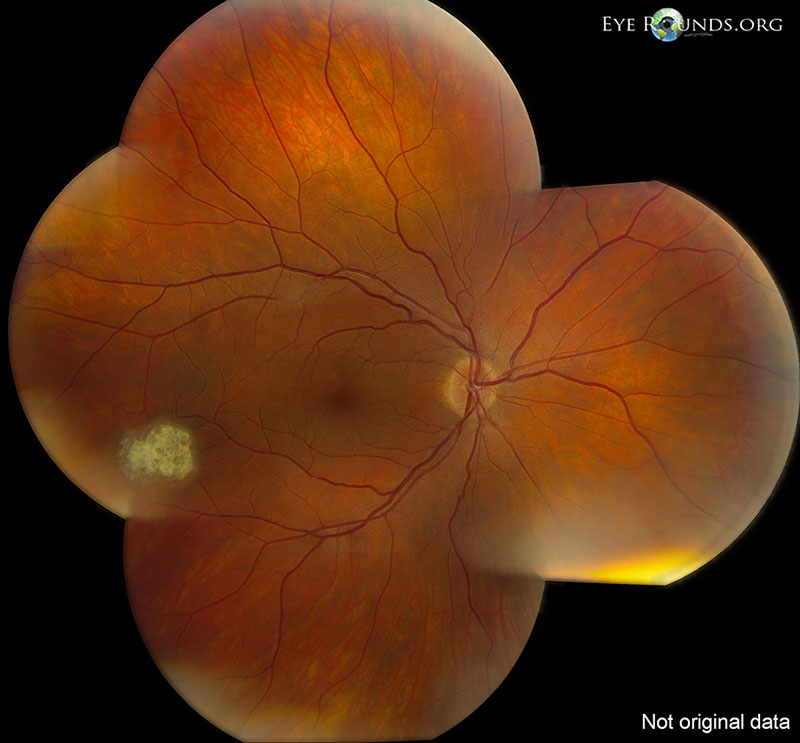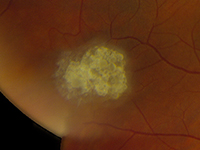 Left eye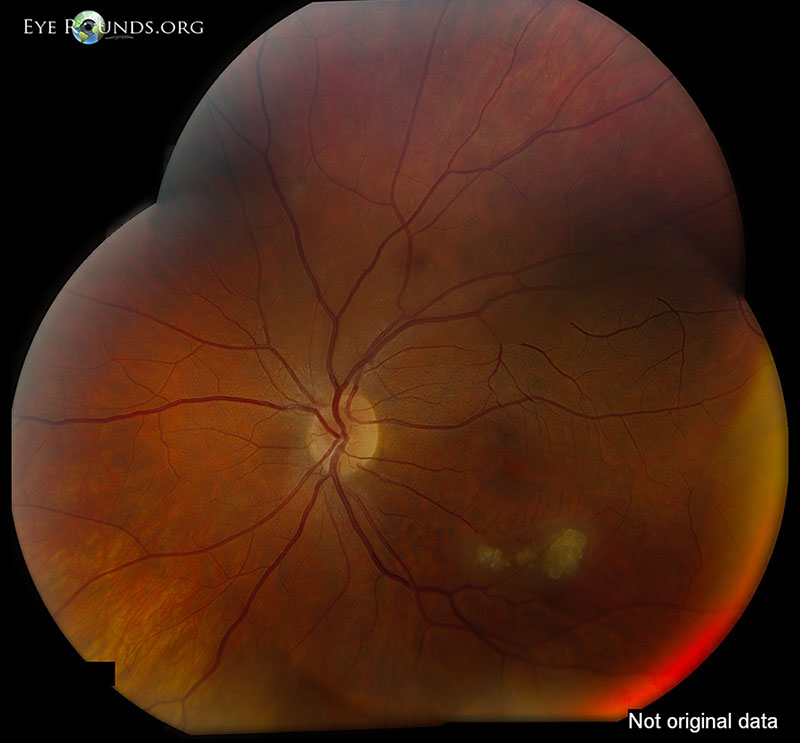 ---
Noncalcified Astrocytic Hamartoma in the setting of Retinitis Pigmentosa
Contributor: Morgan Bertsch, BS and Tyler B.S. Risma, MD

Posted May 12, 2017
This patient with a history of autosomal recessive retinitis pigmentosa (RP) presented with an amelanotic juxtapapillary retinal lesion consistent with noncalcified astrocytic hamartoma of the left eye. Astrocytic hamartomas are typically associated with tuberous sclerosis or neurofibromatosis, but unilateral solitary lesions have been seen in otherwise normal patients. Several cases of bilateral and unilateral astrocytic hamartomas in the setting of RP have been documented. Calcified astrocytic hamartomas appear as white nodular lesions with patchy calcifications overlying the optic disc with a classic "mulberry" appearance. Non-calcified astrocytic hamartomas appear as flat, soft, smooth-appearing, translucent or semi-translucent lesions. It is important to differentiate a calcified astrocytic hamartoma from optic nerve drusen, which is more commonly found in association with RP.

---
Tuberous Sclerosis with Optic Nerve Hamartoma
Category(ies): Inherited Eye Diseases
Pediatrics
Retina / Vitreous
Contributor: Aaron M. Ricca MD
September 18, 2017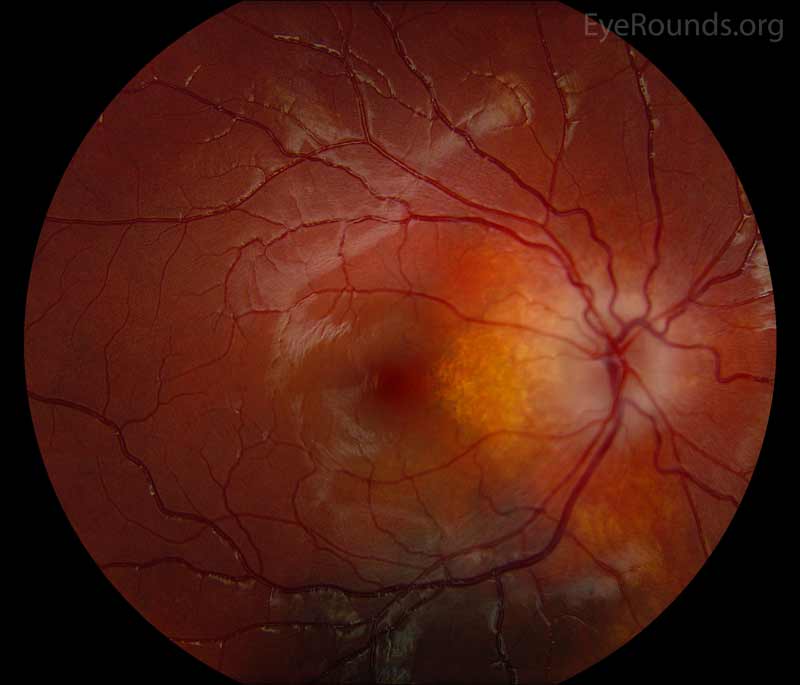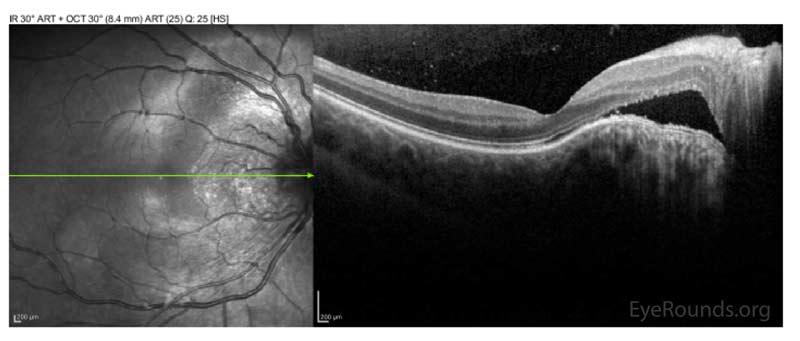 This patient is a 9-year-old female with tuberous sclerosis and an optic nerve hamartoma of the right eye, which in this case appears similar to unilateral optic disc swelling. She has subretinal fluid adjacent to the optic nerve and over the domed hamartoma, as visualized on optical coherence tomography (OCT) of the retina. Note that she has atrophy of the retinal pigmented epithelium (RPE) in the area of subretinal fluid in a "water mark" fashion. A large choroidal nevus is visible under the inferior arcade. Fortunately, her visual acuity remains 20/20, as the subretinal fluid spares the fovea.
---

Ophthalmic Atlas Images by EyeRounds.org, The University of Iowa are licensed under a Creative Commons Attribution-NonCommercial-NoDerivs 3.0 Unported License.
last updated: 03/08/2013; addition made 9/18/17