EyeRounds Online Atlas of Ophthalmology
Contributor: William Charles Caccamise, Sr, MD, Retired Clinical Assistant Professor of Ophthalmology, University of Rochester School of Medicine and Dentistry
*Dr. Caccamise has very generously shared his images of patients taken while operating during the "eye season" in rural India as well as those from his private practice during the 1960's and 1970's. Many of his images are significant for their historical perspective and for techniques and conditions seen in settings in undeveloped areas.
Category: Cornea
Spontaneous rupture of a descemetocele with resulting panophthalmitis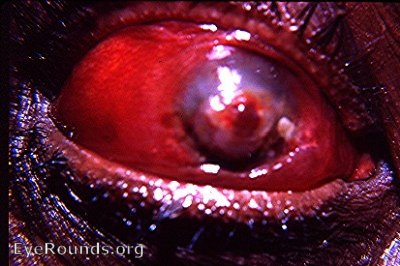 An extreme rarity, even at the Kurji Holy Family Eye Clinic: spontaneous rupture of a descemetocele. That was followed by the development of an endophthalmitis which progressed to the purulent panophthalmitis seen in the photograph.Although some ophthalmologists prefer enucleation in a case of this type, Dr. Caccamise preferred evisceration. It has been postulated that severing the optic nerve during an enucleation may increase the chances of spread of infection to the brain with a resultant meningoencephalitis. Others have stated - legitimately or not - that in cases of purulent panophthalmitis, evisceration protects the optic nerve/brain barrier and has not led to sympathetic ophthalmia. After systemic antibiotics had been administered, the patient was taken to the O.R. and, under general anesthesia, the eye was eviscerated. Recovery was uncomplicated. The patient had immediate and permanent relief from an extremely uncomfortable condition.
---

Ophthalmic Atlas Images by EyeRounds.org, The University of Iowa are licensed under a Creative Commons Attribution-NonCommercial-NoDerivs 3.0 Unported License.
last updated: 02-08-2008