EyeRounds Online Atlas of Ophthalmology
Contributor: William Charles Caccamise, Sr, MD, Retired Clinical Professor of Ophthalmology, University of Rochester School of Medicine and Dentistry
*Dr. Caccamise has very generously shared his images of patients taken while operating during the "eye season" in rural India as well as those from his private practice during the 1960's and 1970's. Many of his images are significant for their historical perspective and for techniques and conditions seen in settings in undeveloped areas.
Category: Glaucoma / Iris
Succulent filtering bleb following glaucoma surgery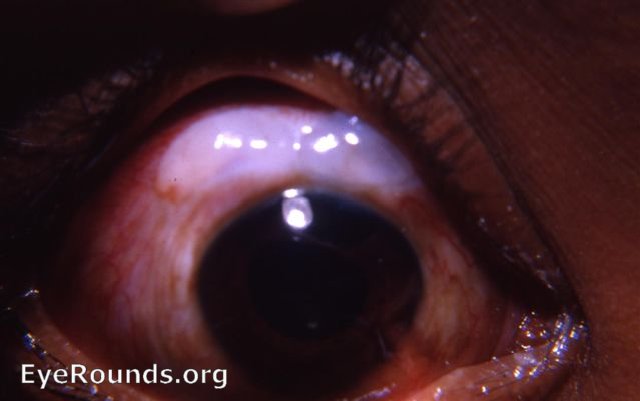 Major Robert H. Elliott, a British ophthamologist (1864-1936) famous for his pioneering work in glaucoma surgery, worked at the Government Ophthalmic Hospital in Madras, India.His corneoscleral trephining combined with a peripheral iridectomy -both done under a conjunctival flap - was revolutionary. His operation and modifications thereof became standard approaches to open-angle glaucoma. There are still some in this world who employ this technique. The photograph is of an eye that had had Elliot's corneoscleral operation. The filtering bleb is larger than is normal with this operation.With hypotony, the eye must be followed for choroidal detachment.

---

Ophthalmic Atlas Images by EyeRounds.org, The University of Iowa are licensed under a Creative Commons Attribution-NonCommercial-NoDerivs 3.0 Unported License.
last updated: 02-08-2008