EyeRounds Online Atlas of Ophthalmology
Contributor: William Charles Caccamise, Sr, MD, Retired Clinical Assistant Professor of Ophthalmology, University of Rochester School of Medicine and Dentistry
*Dr. Caccamise has very generously shared his images of patients taken while operating during the "eye season" in rural India as well as those from his private practice during the 1960's and 1970's. Many of his images are significant for their historical perspective and for techniques and conditions seen in settings in undeveloped areas.
Category: Cataract
Ultimate post-op ocular complication of cataract surgery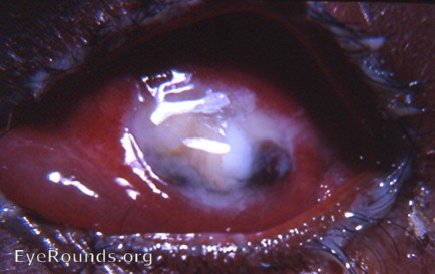 The immediate on-the-operating table catastrophes during cataract surgery are: 1. the death of the patient through cardiac arrest and 2. an expulsive choroidal hemorrhage. The photograph is of a 3rd catastrophe that is initiated during surgery but does not raise its hand of death to the eye until 1 to 3 days post-op. From his own all too extensive personal experience with this catastrophe - all in India, never in America, Dr. Caccamise provides the following points of awareness: 1. surgery is uneventful, the surgeon assures himself and others that the operation was perfect. 2. The next day on dressing rounds, the surgeon is told by the patient that there is some pain in the eye. The surgeon notices a bit of soft edema in the inner canthal region of the upper lid. There may be less clarity to the pupil than expected. All antibiotics and vitamins are increased. Cultures are sent to the lab. 3. On day 2, all of the above findings have been enhanced. Evidence of increased chemosis may now be present. The haziness of the pupil has increased. The orange red reflex cannot be elicited. 3. On the 3rd day the eye has exploded into full-blown panophthalmitis. The eye has turned into a sac of pus. All layers of the eye are involved in the horrendous inflammatory process. 4. The patient continues to be loaded with parenteral antibiotics. 5. On the 5th day, the patient is taken to the OR where under general anesthesia the eye is eviscerated - a simple evisceration with excision of the cornea and no scleral- shell implant. Endophthalmitis is an initial stage of panophthalmitis - it is not panophthalmitis. Modern vitreous surgery and vitreous surgeons have saved the day/vision for many endophthalmitis patients. The same cannot be said for panophthalmitis cases like the one in the photograph.
---

Ophthalmic Atlas Images by EyeRounds.org, The University of Iowa are licensed under a Creative Commons Attribution-NonCommercial-NoDerivs 3.0 Unported License.
last updated: 02-08-2008