EyeRounds Online Atlas of Ophthalmology
Contributor: William Charles Caccamise, Sr, MD, Retired Clinical Assistant Professor of Ophthalmology, University of Rochester School of Medicine and Dentistry
*Dr. Caccamise has very generously shared his images of patients taken while operating during the "eye season" in rural India as well as those from his private practice during the 1960's and 1970's. Many of his images are significant for their historical perspective and for techniques and conditions seen in settings in undeveloped areas.
Category: Trauma
Traumatic subconjunctival hemorrhage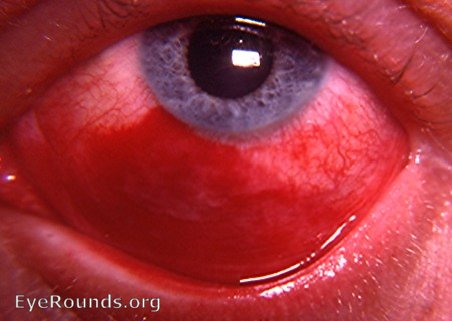 This picture was produced by a foreign body that always must be considered when a foreign body has been sought and none has been found. That foreign body is a bur from a burdock plant. In this case the bur was rather easily found - it was in the lower lid. A more common experience is when the bur is buried in the superior fornix at the edge of the tarsus. Telltale vertical scratches of the superior cornea which can be produced by rubbing the lid against the cornea, should suggest to the ophthalmologist that he must keep looking until the foreign body is found. He must always have epilation forceps readily available while he keeps the lid everted once the bur has been discovered peeking from its hiding place of mucus and swollen conjunctiva.
---

Ophthalmic Atlas Images by EyeRounds.org, The University of Iowa are licensed under a Creative Commons Attribution-NonCommercial-NoDerivs 3.0 Unported License.
last updated: 02-08-2008