EyeRounds Online Atlas of Ophthalmology
Contributor: Andrew Doan, MD, PhD, University of Iowa
Category: Systemic Disorders
Tuberous sclerosis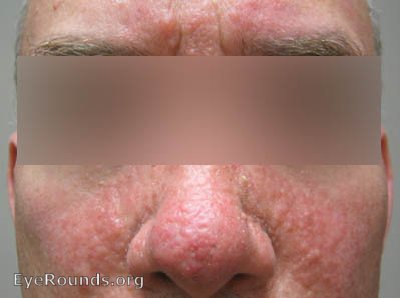 1) Adenoma sebaceum: yellow-red papules in butterfly pattern on the face.
Other systemic lesions: Subungual angiofibromas, ash-leaf sign, renal angiomyolipoma, cardiac rhabdomyoma, pleural cysts,cystic bone lesions, hamartomas of the liver, thyroid,pancreas, and/or testes.
2) & 3) Astrocytic harmartoma: white, semitransparent, mulberry-appearing tumor of retina or ON. Calcification with age. Occurs in the CNS.
4) Retinal astrocytomas usually require no treatment, unless small non-calcified, parafoveal retinal astrocytic hamartomas cause macular retinal detachment. Patient had PRP laser to destroy macular lesions.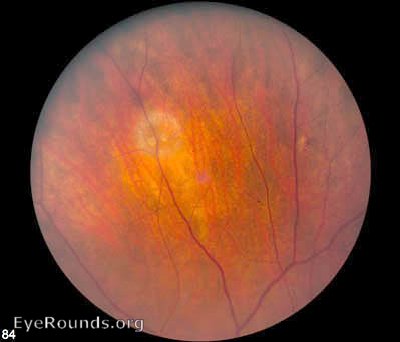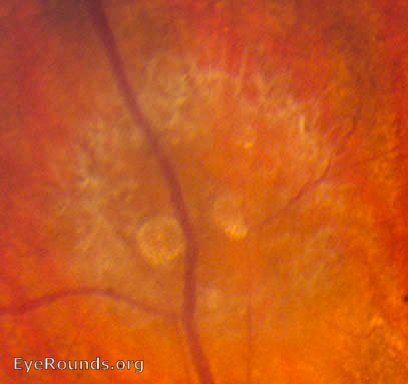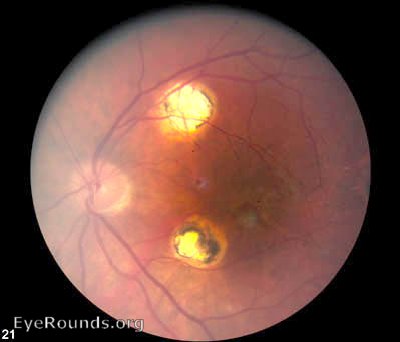 ---

Ophthalmic Atlas Images by EyeRounds.org, The University of Iowa are licensed under a Creative Commons Attribution-NonCommercial-NoDerivs 3.0 Unported License.
last updated: 02-08-2008