Xanthelasma
Categories:
Cornea / External Eye Disease
Oculoplastics
Photographer: Audrey C. Ko, MD
Contributor(s): Austin R. Fox, MD, Angela Mahoney, and Audrey C. Ko, MD
Posted April 17, 2019
Xanthelasmas are yellowish papules or plaques caused by the deposition of lipid on or around the eyelids. The lesions are relatively rare, with an incidence of 1.1% in women and 0.3% in men [1]. Lesions typically appear between 40 and 60 years but may appear at younger ages as a sign of a familial dyslipoproteinemia. Approximately 50% of patients with xanthelasmas have abnormal cholesterol or triglyceride levels, and these lesions have been associated with hypothyroidism, cirrhosis, and nephrotic syndrome. Therefore, systemic work-up is indicated in these patients. Treatment of these lesions include observation, surgical excision, topical trichloroacetic acid (TCA), laser ablation, and liquid nitrogen cryotherapy [2]. Regardless of the treatment modality, recurrence is common and is reported to be 40% after primary surgical excision [3].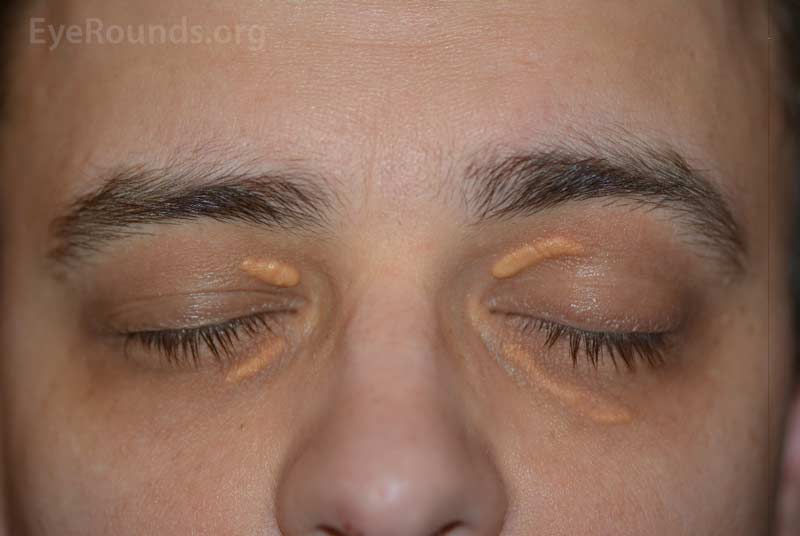 References
Rohrich, R.J., J.E. Janis, and P.H. Pownell, Xanthelasma palpebrarum: a review and current management principles. Plast Reconstr Surg, 2002. 110(5): p. 1310-4.
Laftah, Z. and F. Al-Niaimi, Xanthelasma: An Update on Treatment Modalities. J Cutan Aesthet Surg, 2018. 11(1): p. 1-6.
Mendelson, B.C. and J.K. Masson, Xanthelasma: follow-up on results after surgical excision. Plast Reconstr Surg, 1976. 58(5): p. 535-8.
---
Xanthoma (xanthelasma) - left upper lid
Contributor: William Charles Caccamise, Sr, MD, Retired Clinical Assistant Professor of Ophthalmology, University of Rochester School of Medicine and Dentistry
Posted February 8, 2008
Expanded text by Brendan K. Penaluna, May 5, 2017
*Dr. Caccamise has very generously shared his images of patients taken while operating during the "eye season" in rural India as well as those from his private practice during the 1960's and 1970's. While the quality of his images are not up to today's higher web standards, many of his images are significant for their historical perspective and for techniques and conditions seen in settings in undeveloped areas.
Xanthelasma is a lesion composed of lipid-laden histiocytes, and may be a sign of hyperlipidemia. In this image, xanthelasma can be seen on the medial aspect of the upper lid, seen as the slightly-raised yellow-plaque. Currently, there are several approaches to cosmetically treat xanthelasma. One solution is the use of green laser; however, green laser cosmetic therapy for xanthelasma can result in depigmentation. As a result, green laser therapy for xanthelasma should be avoided in patients with highly pigmented skin. Alternatively, surgical excision or Ultrapulse CO2 ablation can be used to remove the plaques. Because xanthoma is a consequence of underlying hyperlipidemia, it is important to consider prescribing a lipid-lowering agent such as a statin or PCKS9 inhibitor.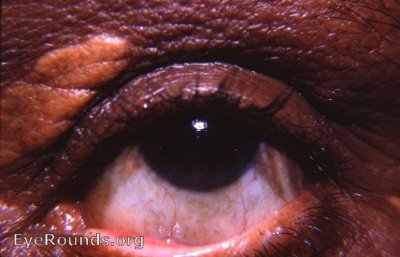 ---

Ophthalmic Atlas Images by EyeRounds.org, The University of Iowa are licensed under a Creative Commons Attribution-NonCommercial-NoDerivs 3.0 Unported License.
last updated: 04/17/2019