EyeRounds Online Atlas of Ophthalmology
Contributor: William Charles Caccamise, Sr, MD, Retired Clinical Assistant Professor of Ophthalmology, University of Rochester School of Medicine and Dentistry
*Dr. Caccamise has very generously shared his images of patients taken while operating during the "eye season" in rural India as well as those from his private practice during the 1960's and 1970's. Many of his images are significant for their historical perspective and for techniques and conditions seen in settings in undeveloped areas.
Zonular cataract/ lamellar cataract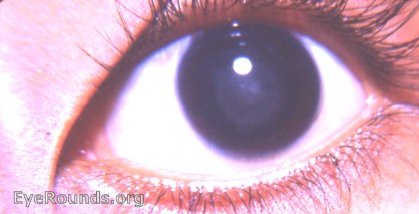 The cataract in this photo is so faint that it can be made vaguely apparent by image manipulation. The pupil has been dilated. With the pupil undilated, the zonular cataract always fills the entire pupil. In the photo, careful inspection will reveal a pupil area between the edge of the cataract and the iris ruff.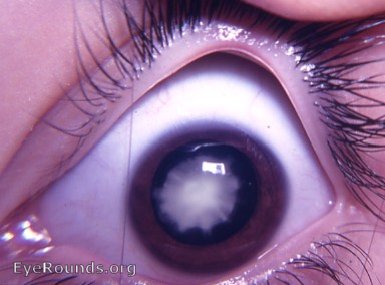 A denser zonular/ lamellar cataract that is easily seen - with the pupil dilated, the entire cataract can be seen.
Zonular/ lamellar congenital cataract with associated coronary cataract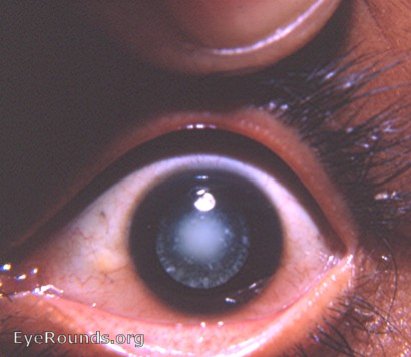 The zonular/ lamellar cataract is a congenital cataract. The coronary cataract is a juvenile cataract - in the photo, it is in its early stage. The patient is an early teenager.
Zonular / lamellar cataract in India
| | |
| --- | --- |
| | |
| original | lightened image |
Very frequently heavily pigmented eyes (dark brown) will give very poor photographic results. These two photos confirm this contention. The original photo provides a very vague view of its perfect zonular/ lamellar cataract. Although the photographic quality of the original photo has been corrupted, the visibility of its pertinent component has been enhanced.
In heavily brown pigmented eyes, it is very difficult for certain lesions to be fully appreciated. Computer manipulation frequently will improve matters.
---

Ophthalmic Atlas Images by EyeRounds.org, The University of Iowa are licensed under a Creative Commons Attribution-NonCommercial-NoDerivs 3.0 Unported License.
last updated: 02-08-2008